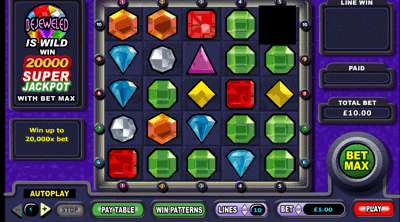 Bejeweled is based on the popular gem swapping game played by millions the world over! The game displays five rows of coloured gems and ten possible paylines, giving you endless ways to win. When a group of gems (3, 4 or 5 gems) match, they disappear allowing more gems to fall into their place, allowing you the chance to win again if more gems match.
What are winning lines (patterns)?
Bejeweled is a 10-line game that may present winning combinations of three to five symbols anywhere in its playing grid. A 'win line' (or pattern) is a line of symbols, either vertical or horizontal, that MAY contain a winning combination on a particular line when the game stops. A win line must contain a minimum of three consecutive symbols for any payout to be made.
To view all possible win lines click the WIN PATTERNS Button.
Select your lines
Bejeweled will always play a 10-line game unless you intervene. That is, it will always proceed on the basis that 10 win lines are possible. Note that when you place a bet on Bejeweled your stake amount is accepted on a PER LINE basis. The more lines you have selected the greater the amount you need to stake. For example, if you have 8 lines selected and you stake £1, the overall stake amount will be £8. If you do not want to play a 10-line game then use the Lines Button (+/-) to reduce/increase the number of possible win lines. For example: If you reduce the number of lines to 9, any possible payout from line 10 becomes unavailable. If you then reduce the number of lines to 8, any possible payout from lines 9 and 10 become unavailable, and so on.
Set your stake
Once the number of lines you want to play have been selected it is time to decide how much money to stake on each of them. Remember that stakes are accepted on a per line basis. Click the up or down arrow buttons in the BET box. Each click either increases or decreases your stake amount. The total stake amount for your forthcoming Bejeweled game will be bet multiplied by the number of lines you have chosen to play. For example, if you select £2 in the BET box and you decide to play 5 lines then the total amount that will be staked on the next game will be £10. This is shown in the BET box.
Bet Max
The BET MAX Button allows you to bet to the maximum, based on your stake per line. In other words, on all 10 lines for the stake per line you have selected. For example, if you have selected £2 per line it would mean that £20 would be the total stake next time you clicked the PLAY Button. Note that clicking the BET MAX Button overrides whatever line selections you may have made previously, making all 10 win lines active.
Note that using BET MAX entitles you to entry in the Super Jackpot.
Starting the game
When you have selected a stake it is time to play. To start Bejeweled click the PLAY Button. Symbols will then start dropping.
How do you win?
When the symbol drop is complete, several things may happen.
To win you must match three, or more, consecutive symbols connected either horizontally or vertically. When the symbol drop ends, any wins will be highlighted. After a short period all symbols associated with a win will disappear, allowing symbols above to fall into the vacant spaces, potentially creating more wins from a single play.
For example:
7 matching symbols
Matching symbols
disappear
Remaining symbols
drop down
More symbols fall.
Extra win lines created
If more wins occur as a result of newly descended symbols, the above sequence is repeated until your winning streak ends.
Any winnings are displayed on the right-hand side of the game window, above the BET button. Win amounts will be added automatically to your balance.
Auto Play
If you want to play a number of games in succession you may want to use the Auto Play function. To increase or decrease the number of auto plays you want click the plus (+) or minus (-) Buttons in the AUTOPLAY area. To then activate Bejeweled under the control of the Auto Play function click the PLAY Button and the game will play automatically as many times as you specify (assuming you have sufficient funds). Auto spinning can be cancelled at any time by clicking the STOP Button.
Payouts
A minimum of three consecutive symbols (either vertically or horizontally) is required to win a cash prize. Click the PAYTABLE Button to view payout values for each symbol. For example, the payout values for diamonds are as follows:
5 pays out 10 x your line stake
4 pays out 5 x your line stake
3 pays out 3 x your line stake
Special features
The Wild symbol

The Wild symbol will substitute any standard symbol to make the best win possible. Bejeweled will do this automatically for you.
Jackpots
A Jackpot is a sum of money that accumulates value as you play the game. A Jackpot consists of an initial fixed minimum amount (the seed) that increases by a percentage of incoming stake amounts. Please note the following:
Jackpots are available during Real Play only.
When a Jackpot is won it is reset (by the Operator) to the seed amount and progressively increases again.
Any simultaneous winners will be paid the current Jackpot value.
For Bejeweled there are two available Jackpots, each of variable amount. These are:
The Super Jackpot is won with Wild symbols only and is ONLY available when you are using BET MAX
With Super Jackpot you win 1,000x your stake per line amount if five Wild symbols appear on lines 1-9.
With Super Jackpot you win 20,000x your stake per line amount if five Wild symbols appear line 10.
Jackpot 8000 is won with any other symbol.
With Jackpot 8000 you win 8,000x your stake per line amount if five matching symbols appear on line 5 (vertical) AND five matching symbols appear on any of lines 6, 7, 8, 9, or 10 (all horizontal).

WHERE TO PLAY BEJEWELED ( REAL MONEY )
Share