BTTS Tips: Our Both Teams To Score Predictions
If you are looking for profitable BTTS predictions, you are at the right place. Our expert tipsters publish free daily both teams to score betting tips from UK, European and International football leagues! Copy & win!
Top Bookmakers To Bet Our BTTS Tips Today
Our Both Teams To Score Tips
Below you'll find our expert pundit's top BTTS predictions for today and tomorrow with some of the most trusted bookmakers. So, why not enjoy the action and grab yourself a prize pot? All our BTTS tips offer the best value odds with our experts scouring the top brands to ensure you get the biggest payout.


BTTS Tips For Today - 27th November 2022
BTTS Tips For Tomorrow - 28th November 2022
*Both teams to score betting tips are calculated using our much appreciated BTTS betting system
Results Of Our BTTS Tips
Football is a beautiful game, but it's also one that can be incredibly unpredictable. We're open with our predictions and understand it's impossible to get every single one right. However, we do have a great record and are completely transparent.
Below you'll find the recent results of our predictions to see exactly how we fared.
| MONTH | CORRECT TIPS | PROFIT & LOSS |
| --- | --- | --- |
| November 2022 | 32/65 | -12.86 units |
| October 2022 | 53/90 | -3.00 units |
| September 2022 | 44/78 | -6.29 units |
| August 2022 | 45/87 | -8.91 units |
| July 2022 | 46/71 | +4.85 units |
| June 2022 | 30/53 | +1.40 units |
| May 2022 | 46/80 | -2.79 units |
| April 2022 | 47/74 | +2.28 units |
| March 2022 | 34/63 | -6.97 Units |
| February 2022 | 36/68 | -8.42 units |
| January 2022 | 41/62 | +4.60 units |
| December 2021 | 34/57 | +7.46 units |
| November 2021 | 32/51 | +9.57 units |
Both Teams To Score: Best Predictions
If there's one thing we love about the football, it's the goals. The main purpose is to stick it in the back of the net and it can't be denied that the more there are, the more exciting the game. That's if they're in favour of your team of course!
Betting on goals is a real thrill too and the BTTS market is just about the most popular out there. You can get some fantastic odds on both teams to score and you're in with a great chance of winning with our BTTS tips from some of the best tipsters around.
We bring you all the top value BTTS betting predictions on today's games and continually bring you the best odds across the Premier League, Champions League, La Liga and many more.
What Does BTTS Stand For?
Firstly, if you're new to betting you're going to want to understand what BTTS actually means. That's quite simple. It stands for Both Teams To Score and is a bet that does exactly what it says on the tin.
What is Both Teams To Score?
BTTS is one of the most common bets out there, and with good reason too. You can have a decent profit off a BTTS wager from simply watching the goals fly in.
BTTS stands for both teams to score and betting on the market means you're doing just that, betting on both teams in a football match to score a goal. That can be in either half and the result can go either way, although you can also place bets on a BTTS and win market, also known as Match Result and BTTS.
How Do I Win A BTTS Bet?
To win a BTTS bet, all you have to do is back a game where both teams score a goal. For example, let's say you were to place a BTTS wager on Liverpool v Manchester City.
Liverpool or Manchester City could win the game for your bet to come through, while you'd also receive a payout on a score draw. Results such as the following would see your wager come through…
1-1, 2-1, 1-2, 3-1, 2-2, 1-3, etc.
You would lose the bet if the result involved one team failing to score. This would mean 0-0, 1-0, 0-1, 2-0, 0-3 etc. would mean you miss out.
Essentially, the lowest scoring result you could win on a BTTS bet would be 1-1. However, other markets involving both teams to score require higher scoring outcomes.
Other BTTS Markets
There are a number of BTTS markets to enjoy within football betting, and they all get gradually harder to win than the standard both teams to score wager.
Adding other aspects to your BTTS bet will increase odds significantly though and you can get a really good payout, if you're brave enough to take one on. Below you'll find a number of markets that will increase your odds and give you a better chance of the big bucks.
Match Result and BTTS
Match result and BTTS bets, also known as BTTS and win, are basically two bets rolled into one, meaning you can get big wins from relatively small odds.
You can earn those big ones because of the high odds and the difficulty of getting it right. That's because you need both teams to score as well as predicting the correct winner of the match.
That means the lowest possible score within this bet is 2-1. For example, taking Liverpool versus Manchester City again, you'd win by doing the following.
If you were to place a BTTS and win bet backing Liverpool, you would need the Reds to win and the result to be at least 2-1, with Manchester City guaranteed a goal.
In this case, results such as 2-1, 3-1, 3-2, 4-2, 4-3 etc. would see your bet paid out.
However, if Liverpool were to win 1-0, 2-0, 3-0 and so on, then you would lose your bet as only the Liverpool win aspect of the bet came through. Naturally, if the game was to finish a Manchester City win or draw you would also lose as the other part of your bet would fail.
It is possibly to bet on a draw and BTTS, in which case the minimum winning scoreline would be 1-1.
BTTS In Both Halves
A BTTS in both halves bet is a tricky one to get right as ultimately it's two BTTS bets rolled into one. The first BTTS bet is for both teams to score in the first half, while the second is the same outcome in the final 45 minutes.
This means that the minimum number of goals would be two a piece. Again, the final result is irrelevant, so if it was the example above, it wouldn't matter if Liverpool or Manchester City won, or the game ended in a draw, the game would have to be at least 2-2 though.
It's why this wager has such high odds and can increase the payout, it's a match result that is hard to predict and doesn't happen very often.
BTTS Accumulators
You can, or course, add all these to an accumulator. We offer some fantastic accumulator tips here at Bet and Skill and will often add some BTTS wagers within them. A BTTS accumulator can boost odds significantly and while adding BTTS bets into an acca can be risky, the rewards are huge.
As with any accumulator, the more lines you place in it, the higher payout you'll receive if your bet comes through.
When Should I Place a BTTS Bet?
There a number of reasons a BTTS bet is worth backing, but it's well worth studying the form before placing.
There are many things that need to be taken into account, first and foremost the game it is. Naturally, if an in-form big team is taking on bottom of the league, the chances of both teams scoring are significantly less.
It's also worth taking into consideration things such as leaky defences, in-form strikers and head-to-head records. Additionally, the significance of a game can also dictate how tight or free-flowing a game is, with the latter more likely to produce goals.
What Leagues Can I Place BTTS Bets On?
Today, the opportunities to bet on BTTS is endless. No matter what the league, the likes of Betfred and Paddy Power will offer you almost every league imaginable.
Of course, you can back every league game in Britain, from Premier League BTTS bets and Scottish Premiership, to the Championship, League One and even the National League.
That extends across Europe and major competitions including the Champions League and Europa League as well as the likes of La Liga, Serie A and the Bundesliga.
Ultimately though, you'll find even the most obscure leagues covered. If there's football being played, you'll be able to place a BTTS bet.
Which Bookmakers Offer Both Teams To Score?
All the best online bookmakers will offer BTTS markets, with the variants of market varying from bookie to bookie. You'll find standard BTTS and match result and BTTS odds available across almost all outlets, although some offer some more exciting markets.
The likes of Bet365, Ladbrokes and Betway all have large BTTS markets, available on almost every league imaginable. So, whether you're looking to place a BTTS bet on the Premier League, La Liga, or Italian Serie A, you won't have a problem finding some odds.
BTTS in Europe's Top Leagues
It's common that there are various styles across leagues. Traditionally Serie A has been fairly defensive, while La Liga is full of goals. While this can be true, it's always best to look at the figures.
It's always a good idea to analyse each league to discover whether a BTTS is worth playing. While exploring the form and attacking/defensive prowess is integral to successfully betting on BTTS, you can also take a look at the leagues themselves and the percentage of games which see both teams score.
According to research, the Eredivisie sees the most games with both teams scoring, with the Portuguese Primeira and Russian Premier League having the lowest percentage of games without both teams scoring.
Below you'll find some of the top leagues across Europe and their BTTS percentage…
English Premier League: 51.3%
German Bundesliga: 54.6%
Spanish La Liga: 49.7%
Italian Serie A: 51%
French Ligue 1: 49.7%
Scottish Premiership: 49.7%
Portuguese Primeira: 48.7%
Russian Premier League: 47%
Dutch Eredivisie: 58.8%
While each individual game should be considered as a stand-alone, this provides solid insight into where you're more likely to see goals, and both teams to score one, in a game.
Daily & Weekend Both Teams To Score Tips
Whether you're after a both teams to score BTTS tip at the weekend or one in the week, there's a great chance we'll have you covered. We always strive to have bets on all our football tips pages though with Both Teams To Score tips being more specialised as a market, it's likely they'll be much more limited.
The weekend is the best time to find a Both Teams To Score bet, but we'll always endeavour to create one during the week depending on the football fixtures being played. If you're looking for a BTTS tip today or you're planning ahead for a busy full fixture list, you'll sure be able to find something on this page, so it's worth bookmarking it and checking back regularly.
Can I Get BTTS free bets?
If you're new to BTTS betting a good place to start is with a free bet. We collate all our favourite free bet and
no deposit free bet offers
from all major bookmakers for you to treat yourself to an outside bet and even hone your skills.
Most bookies will offer free bets upon sign up and you can bet on almost any market, including BTTS. Check out our bookmakers for all the best free bet bonuses and get playing the both teams to score market today. It really is one of the most exciting wagers you can make!
Where Can I Find BTTS Tips & Predictions?
At Bet & Skill we continue to offer the best BTTS tips and predictions each and every day. We have expert tipsters across all Europe's top leagues and bring you amazing predictions for almost every match up.
You'll find all our BTTS tips on our
Tips & Strategies
page, while you'll also find a selection of BTTS bets across multiple leagues on this very page.
But don't worry, you can make sure you don't miss a thing by following us on social media, where we post all our tips and previews as well as some incredible betting offers to combine them with.
We do our best to bring you some fantastic betting offers and free bets with all our predictions, while you can explore further on our
Promo & Bonus
page.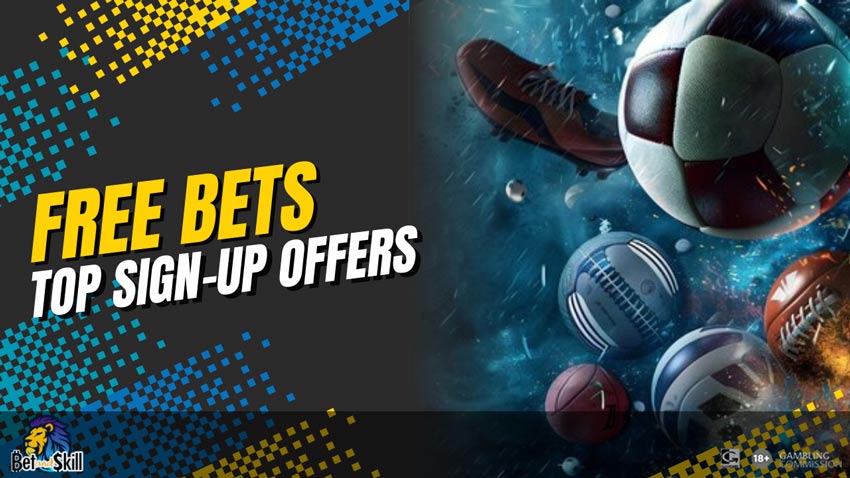 SHARE IT WITH YOUR FRIENDS
Let your friends know about this article! Share it on your favourite social media!