New Betting Sites 2022: List of the Best New Bookies
Written by Martina Maritato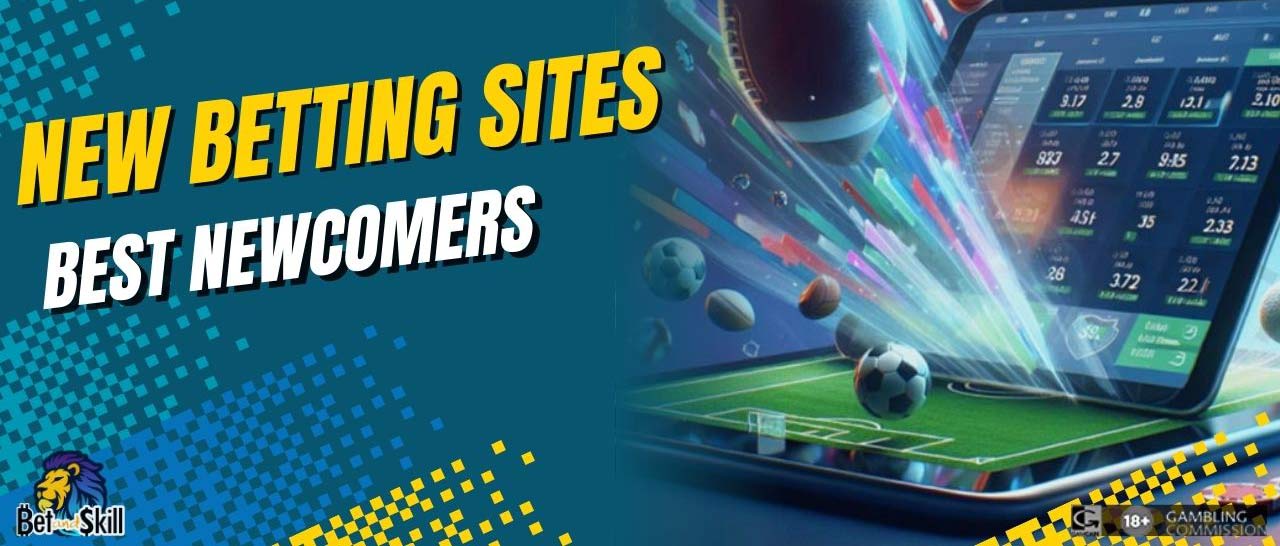 Are you searching for new betting sites to play on? The betting industry is growing at a rapid pace and here at Bet & Skill, we recognise that with that comes lots of new bookmakers. With each new face, there's new innovative features and odds across a range of different sports. We've compared a great number of bookies in order to give you a comprehensive list of the best to choose from in 2022.
Best New Betting Sites
New betting sites in 2022 are not necessarily the best ones. That's why we've narrowed down and compared our top choices. We always work to bring you the best new online bokies, with fully in-depth reviews and the very best betting offers and promotions from them. Remember our bookmakers page has an extensive list of reviews from the latest sites too, while below you'll find our selection of top new betting sites to play with.
What We Look For In A New Online Betting Site
There are lots of attributes we consider in a new betting site to make sure you're only experiencing the best. These are:
Sign up offer - Looking at the welcome offer is one of the first things you do. Find out what type of offer it is. How much is it worth?
Licensing- A UK license from the UK Gambling Commission is a sign you can trust the new UK bookmaker.
Variety of banking methods - There should be a variety of payment methods from card to PayPal to Boku. Also, consider how long it will take to withdraw or deposit.
Range of odds and markets - Does the betting site offer good odds and the sports you'd like to bet on?
Betting promotions and rewards - Ongoing promotions for existing customers or just the welcome offer?
Quality customer service - A range of contact methods like live chat, telephone, email and FAQ pages. Also times of availability for customer support - is it 24/7?
Live betting and streaming options - Most online bookies have a live betting section, though be sure to check before joining a new betting site. Is there live streaming too? We always prefer the latest UK betting sites who let you watch while you bet.
Mobile betting - The best new bookmakers also tend to produce some of the best betting apps.
Why Choose A New Betting Site Over An Established One
There are lots of reasons why you would choose a new betting site instead of a more established one. From bigger bonuses and promotions to better value and bigger odds, more betting opportunities to a wider range of payment methods.
New Customer Sign Up Bonuses
New online bookmakers will typically have top sign up offers, however a large sign up offer doesn't necessarily mean better. Things like high wagering requirements can turn a good looking betting offer into a non-starter. It's always wise to choose a bonus from a new online bookmaker that suits your gambling style as opposed to choosing based on size.
For example, small wagers on longshot accumalators each weekend could equate to a risk-free bonus being best for you, whereas a large matched deposit bonus wouldn't be worthwhile as you'd get nowhere near the wagering requirements in 30 days.
Before signing up to a new online bookies, make sure you look out for:
Promo codes (if needed)
What minimum deposit amount there is to unlock free bets (checking what payment methods are excluded too e.g. PayPal or Skrill etc)
Minimum odds/selections needed to unlock the offer
Free bets expiry time (usually 7 to 30 days)
Bigger & Better Odds
Another simple way new online bookies UK aim to stand out from the crowd is by being the best. One of the biggest factors - amongst many - is how much money a punter can win or lose. Being a better punter requires winning more, and to win more you must make your bets at the best price, and with an online sports betting site offering a low margin. New online bookmakers are aware of this, and so are in competition to make you sign up with them and make the most out of the prices when placing bets.
Greater Betting Opportunities
As a punter logging on to one of these new betting websites UK, one of the main things you want is choice. Online bookies know this and so they have worked to provide punters with as many differnt betting opportunities as possible. Whether they're adding new sports and leagues to bet on, or they're giving you increased ways to bet on the big games, this is a major plus for punters and one that should be used to your benefit. While you will not use all the betting markets, selecting from 100 instead of 80 equates to greater flexibility in deciding how you want to bet.
Wider Selection of Payment Options
People want more than just the option of depositing to a betting site using their bank card online. E-wallet payments like PayPal, Skrill and Neteller, pre-paid cards like Paysafecard, and pay by phone methods like Boku, are becoming increasingly common. Even Bitcoin betting sites now exist, allowing for even greater choice when it comes to depositing.
Incredible Mobile Betting Experience
Technology is improving rapidly and the best betting sites are making sure they adopt the latest advances to the max. These sites have state of the art mobile betting apps, meaning you can take your betting with you on the move. In the mobile world, new online UK bookmakers are bring betting to life. If you plan to bet on the go than consider the latest betting sites that have mobile apps available for download, so you're never more than a touch away from placing a bet on your phone. Some sites will also have an enhanced mobile browser experience, which you could bookmark a link to on your home screens as well.
What Are The Pros Of A New Betting Site?
As many experienced punters know, choosing the right new bookie should be by no means random. Whether you're a casual player or a pro - the selection process should still be thorough.
New bookies online are popping up all the time. This gives you the opportunity to take advantage of multiple welcome bonuses if you already have lots of accounts. Not only that but they bring competitive odds, good in-play betting and loads more. These new betting companies have to do something to attract customers and making them stand out is good for punters.
A new UK betting site will give you a clean break if you've got tired of your usual bookie or you might be caught up in the middle of a losing streak. The change of scenery certainly helps in terms of positive impact for a punter, and it could signal the end of a bad run.
Lucrative welcome bonuses from new UK online bookies could be another morale-boost, over staying with you usual one. An alternative set of markets and odds can offer a unique betting perspective and provide a welcome pat on the shoulder.
There are a wide selection of new betting websites sprouting up each day. And with this, operators like Bet365 and William Hill have set the bar high. This means new arrivalsare pushed to perform even greater in order to be competitive.
New Online Betting Sites By Sport
When new sports betting sites launch, they are not necessarily the complete package. For instance, Bethard, which launched in 2018, didn't offer horse racing on their sportsbook at first. They later did, but it wasn't very good - and they have since left the UK market.
There are a range of sports the you can place bets on at new UK betting sites. However, the most popular by a country mile are football and horse racing. Other sports betting markets include: boxing, cricket, Formula 1, golf and rugby.
Best New Sites For Football Betting
We ensure that any new betting site that we recommend specialises in football betting markets, as this is ultimately what a large portion of our fans bet on. All the new UK bookmakers will have a huge selection of odds and markets to choose from, with the likes of Novibet amongst the most popular with players.
As we're keen to promote those new UK bookies that offer live streaming too, it's worth mentioning that Sport Nation have a fantastic range of football betting odds. Across these sites and many others from the table above, you'll find odds on all majot competitions - from the Premier League to the Champions League, even the Bundesliga to La Liga as well as smaller, more obscure competitions too.
For more places to enjoy betting on football, make sure you visit our list of football betting sites here.
Best New Sites For Horse Racing Betting
Any self-respecting new bookmaker should have a solid range of horse racing odds. Here at Bet & Skill, we recognise this and recommend these sites. You can bet on any race daily across the UK and Ireland, with the lion's share offering live streams too. We also offer odds on big events like the Cheltenham Festival and the Grand National.
These brand new betting sites for horse racing offer odds on major races around the world, like Australia, Dubai and the USA, with the likes of STS and QuinnBet perfect partners for our Nap of the Day predictions. If you're after even more places to enjoy betting on horse racing, be sure to check out our horse racing betting sites here.
Can You Trust New Bookmakers?
All new bookmakers at Bet & Skill have valid gambling licenses from the UK Gambling Commission and follow strict UKGC regulations. Generally speaking, new sports betting sites with valid UKGC licenses are safe, legal and secure. We have all of the newest betting sites to launch in the UK from 2022 and earlier.
New Betting Site Licences & Regulation UK
If the new bookmaker is listed on Bet & Skill, they will have a valid UK license and keep to all the UKGC regulations that ultimately make them a safe betting site. Though if you find a site not on our new betting sites list, make sure you check out the UKGC website which allows you to search by website. Never sign up to a new online bookie if the site doesn't show as having a valid, in-date UK Gambling license.
How Do New Betting Offers Work?
New betting sites really push hard for new customers and then to retain that new existing base of players. As we covered earlier, one of the most obvious methods online bookmakers use to do this is through betting offers and bonuses, which come in all shapes and sizes. Betting offers remain one othe biggest draws to new customers, despite having evolved over time. Some of the most common bonuses and offers you'll find at the majority of trusted online bookmakers below.
Free Bets and Free Spins
Free bets are an actual amount of money the new bookmaker online will deposit into your betting account when you register. They typically follow a deposit of your own, and you must remember that the amount in free bets is not the amount of money you can keep and withdraw right away. If you win, the bookie will let you keep the winnings and not the wagering sum of the free bet. At some new bookmakers UK, you have to wager your net winnings before you're even allowed to withdraw those as well.
Deposit Bonus
This is usually shown as a percentage of your total deposit. It is arguably the most popular type of bonus with new bookmakers online and casinos. A deposit bonus can range from 25% to as much as 100% and even more on your first deposit. What this means is on a 50% deposit bonus, you'll be given an extra £10 on a £20 deposit.
Matched Bonus
This is a variation on the deposit bonus. A matched bonus means you get given the amount equal to your initial deposit. As a result, the matched bonus has become one of the most searched bonuses in the online betting industry. The newest online bookmakers as well as the established ones race to offer as lucrative matched bonuses as possible to their players, with sums of free money varying from £10 to £50. There are smaller amounts - and these are often preferred options to higher matched bonuses tied to deposits of up to £100 or more, for the simple reason they will require being played over once before you can withdraw your winnings.
No Deposit Bonus
These are pretty rare bonuses these days. A no deposit bonus is an amount given to new players for opening a new account at a new sportsbook UK. They sound like one of the most appealing types of bonuses, though they normally come with strict wagering requirements and other restrictions that will prevent you from withdrawing the money right away.
Mobile Bonus
Again, these are not as common today, as more and more players are playing naturally on their mobiles anyway. Some new UK online bookmakers will offer specific perks to their players that come from mobile devices, so keep an eye out for them.
Making A Deposit With New Betting Sites
You've chosen your new bookie. You're happy with the bonus. Now it's important to be aware of the deposit methods the sports betting site of choice has. In an ideal world, the new online bookmaker UK will have lots of deposit methods to choose from, including some of the bigger payment options.
Making a deposit via debit card is the most common option at all new online bookmakers UK. On top of this, e-wallet payment methods like PayPal, Skrill and Neteller are increasingly popular. These are used online for more than just betting and also provide strong security to their users. For more banking methods, you might consider bank transfer. Or bitcoin - as a growing alternative.
The minimum deposit is often £5 but for some new bookies it can be a lot higher. As well as varying by bookmaker, it can also vary by deposit method used. It's key to note that the same card or payment method used is usually the one that the bookie will return winnings to - unless told otherwise.
You might be asked by the online bookmaker to provide some additional details if you choose a different payment method to receive your winnings to. This is normal. It's to comply with money laundering regulations. They are simply following legal guidelines.
Something else to consider is that you may be able to easily transfer money between the new bookies and other products such as casino, poker and bingo (if the gambling site offers these facilities). Transferring money between the sportsbook account and other accounts is often pretty simple. And if you're only interested in the sports market, you can safely ignore this function.
The reason lots of people use payment providers like Skrill for depositing to and withdrawing from online bookmakers is they can be faster and more convenient than bank cards. Bear in mind though that using these alternative methods may exclude you from certain bookmakers welcome offers. That's why it's wise to read the terms and conditions carefully of the welcome deal. Read through our bookmaker reviews for more information on which payment methods are accepted by which bookmakers.
These days, regulations for new online bookies have tightened as the UK Gambling Commission looks to increase protection for its players. This, overall, is great news for the online betting industry and sites. Though it's as a result of this that you may have to put up with the odd inconvenience when trying to open a new online betting account or, for instance, place large bets with a bookie. Sometimes you might be asked to send copies of documents for ID and address verification.
Also, if as a player, you're placing big bets or making large deposits, online betting sites have a responsibility to make sure you can afford to do this. In these circumstances, it's not uncommon for affordability checks to be carried out such as showing your pay slips or proof of funds for money laundering checks. Such requests shouldn't be taken personally, as the brand new bookmakers as well as the more established ones are following the guidelines so as not to face big fines.
Gambling Responsibly
Here at Bet & Skill, we take pride in promoting responsible gambling. We will only recommend new online bookmakers that have responsible gambling measures in place on their websites. For tips and advice on how to stay in control, consider:
Deposit limits - Close to all new betting sites offer deposit limits, and we recommend all punters set a limit and keep to a budget that they can afford.
Reality checks - We will only list new bookmakers who offer reality checks to monitor your time and money spent on a betting site.
Self-assessment tests - We check to make sure new bookmakers offer self-assessment tests in order to help you if you're considered at risk of developing a gambling problem.
Self-exclusion - Again, all new betting sites listed offer self-exclusion options if you want to take a break or suspend your betting account for 6 months, 1 year, 5 years or longer still.
Tell Us About A New Site
If you work for a new betting brand, group or platform that's just launched, or is about to launch, you might be interested in having it included in our listing. Before getting in touch, please note you must have a valid UK gambling license to be considered. There are also no guarantees we will feature a brand as all new sites must pass rigorous vetting procedures first.
New Bookmakers FAQs
Which are the best new bookmakers?
New online bookmakers are being launched all the time. You can see which bookmakers are best by looking at our reviews or checking out our new customer bonuses above.
How long does it take to open a new betting account?
Usually it takes between 2 to 5 minutes to complete the online registration, deposit funds and place the first bet. This can obviously be delayed if you have to go through verifying identification or funds.