Best Betting Sites 2023 - Top UK's Bookmakers Online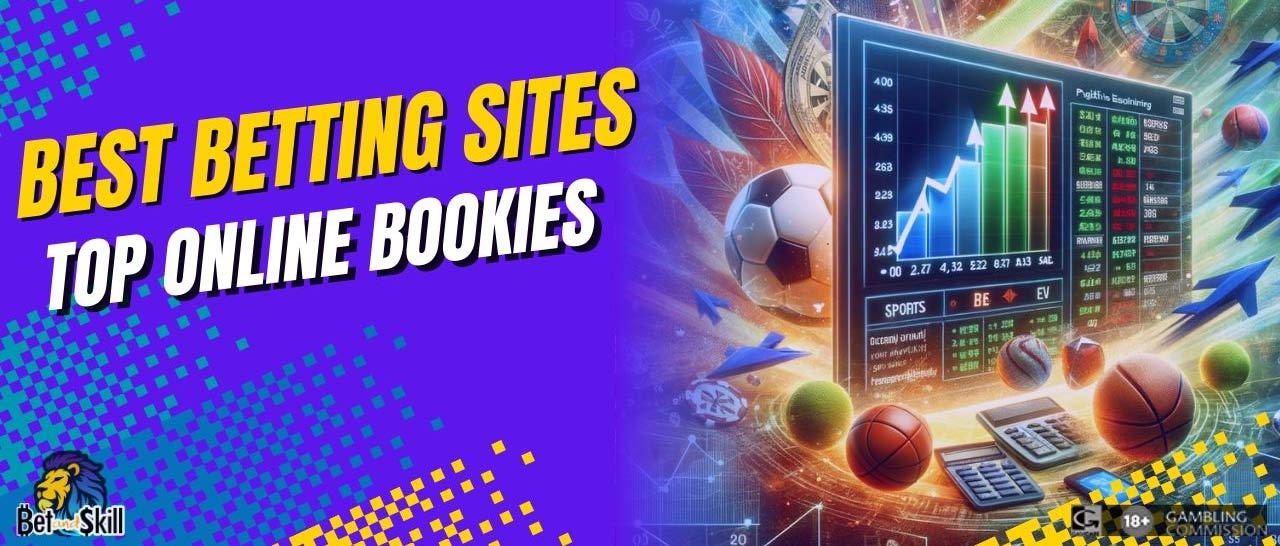 Are you after the best betting sites in 2023? You're in the right place. At Bet & Skill, we compare, review and rate online betting sites and offers - to simplify betting for you. Have a look at our lists and pick a bookmaker that takes your fancy. Our lists are updated every week, so you know you're getting the very latest deals.
Best UK Betting Sites 2023
Non-UK Betting Sites
The following bookies do not accept UK customers. Anyway, if you live abroad, we strongly recommend to give them a try.
How We Compare & Review The Best Betting Sites
There are loads of good betting sites out there, however comparing them all is a task too big for any single player simply looking for a reliable online bookmaker. Here's where Bet & Skill comes in, with a website dedicated to comparing bookmakers and the best online betting offers.
We endeavour to get you the best information available about only the top betting sites, meaning that in our lists we'll only show to you the online bookmakers we deem trustworthy enough to appear on our site. Why do we do this? To make betting as enjoyable and easy-going as possible.
BetandSkill.com is primarily focussed on new customer betting offers for UK players. We have years of experience and expertise in this. Now, if you're wondering how we compare and review sportsbook gambling sites, read on.
We make sure that we review all aspects of a bookmaker before making a recommendation to our fans. Not only do we review sports betting top sites, but we test them out to make sure everything is above board for your peace of mind.
We take into account many different factors when reviewing a betting site, which include:
Safety & Security
The number one priority to us is making sure you are 100% safe and secure, and that is underlined by each betting site being checked for the correct licences and being fully regulated in the UK.
Range Of Markets
The variety of sports and markets you can choose to bet on is massively important. We know everyone likes a different flutter and bookies should make sure you can. We look for a range of sports, with extensive markets in football, horse racing and
NFL
.
Best Odds
We expect good value with each sport and market, and so we won't be including any betting sites to our list which provide you with odds that are simply not worth betting on.
Welcome Offers
If we're recommending you to sign up to a betting site you can certainly expect a top bonus to go with it. Betting sites do pride themselves on the bonuses they promote, and we find the best ones for you whether they're
free bets
,
no deposit bonuses
or
enhanced odds
.
Live Streaming, Live Betting and Cash Out Features
Features like live streaming, live betting and cash out highlight the development of betting sites. Live streaming is a growing part of the bookmaker experience these days with large catalogues of live sport now being available to watch. The cash out function - where you can close a bet before the end of the game in order to secure a win or cut your losses - is growing in popularity and is now offered by a number of betting sites too. We'll always showcase the best betting sites for sports which have this range of features.
Variety Of Deposit & Withdrawal Methods
How we pay for things online is evolving and this change in habits is reflected at the more forward-thinking bookies. We consider a wide range of traditional methods like VISA debit card and bank transfer to newer methods in eWallets like
PayPal betting sites
, Apple Pay and
BitCoin betting sites
.
Mobile Friendly
All the sites we recommend are user friendly in their design on both desktop, and most importantly, mobile. From placing bets to viewing account settings, whether on a dedicated mobile app or through a mobile browser, all the best UK betting websites listed here are easy to navigate.
Customer Service
We believe bookies should always be contactable. We look for top UK betting sites that have a wide range of ways of getting in touch, whether that's live chat, telephone, e-mail or social media.
Best Online Betting Sites For Football
The majority of online betting sites offer their customers betting on football in terms of matches as well as markets and features. Finding the best betting site for football couldn't be easier with BetandSkill.com. These are the basic things we consider to make a top football betting site:
Betting selection
Well-priced odds
Live betting
Cash-out function
Live streaming
It's the big sports betting sites UK that offer the best variety of features typically. For instance, Bet365 and Betfair both offer a good selection and great features like live betting or the Betfair Exchange.
When it comes to odds, this can vary from site to site, with some concentrating on competitive odds - and this is not just when it comes to football but also specific leagues or events. Examples of betting sites with a good payout for football are Unibet and 888sport.
Best Betting Sites For Horse Racing
Horse racing is the staple of many UK sports betting websites. It has been a huge part of classic bookies that have transitioned from the high street to online, whereas new betting sites must have an outstanding horse racing betting offering if they're to compete.
The best
horse racing betting sites
in 2020 are constantly evolving. Races take place every day too. Domestic racing is the most popular to bet on in the UK, however there are still meetings in the USA, France, South Africa and more that you can wager on. Betting sites also offer markets for trotting, which is a variation of horse racing particularly big in Scandinavia.
You'll notice that there are a variety of
betting offers
around horse racing as betting sites look to draw in punters. The most common kind of deal is the Best Odds Guaranteed, while at the same time money back specials are also frequently offered. Our ultimate recommendation is for you to use horse racing betting sites with live streaming, as this way you can bet and watch races in the one place.
Top Betting Sites For Live Betting
Live betting with online betting sites has become extremely popular in the last few years. To stay competitive, online bookmakers really have to offer live betting. It will be difficult to find a betting website that doesn't offer this. However, there are certain live betting sites that are better than others; the best being the likes of: Bet365, LeoVegas, Unibet, William Hill and Betway.
What separates these top betting websites is the selection of matches available live, how competitive the odds are, and how well the features work on mobile. If the bookie has a nice app too, that's another bonus. Traditionally, the larger UK online betting sites like Bet365 and William Hill have the best built-in features. Though it must be said, other sites have also invested well in live betting.
Top Betting Sites For Politics & TV Betting
The best betting sites in the UK offer a huge variety of sports, although some also price political events and TV shows, from the US Presidential Election to the UK General Election to the Next Labour Leader.
You'll find the markets for other key votes such as referenda, and outcomes of popular TV Shows like Strictly Come Dancing, Dancing on Ice and Love Island to name just a few. Paddy Power is one of the best betting websites UK for these more obscure markets, with options that include unique, sometimes humourous markets to choose from too. Other online betting sites UK that offer these markets include Bet365, William Hill and Betfair.
Best Betting Sites For Cash Out
As an extension to live betting, there's the cash out feature, which lets punters close the bet before the end of a game, thus securing a win or cutting losses. Most UK online sports betting sites offer the cash out function in some form or another, though it can vary in quality depending on how well developed it is.
The best betting sites for cash out functions include: Bet365, Betfair, William Hill, 10Bet, Coral, BetVictor and Betway. Some online betting companies only offer cash out before the match, though some offer it during live games. On top of this, there are some betting sites that allow you to close part of a bet, in order to secure your investment, but leave the remaining part active.
Best International Betting Sites
At Bet & Skill, we list and rank betting sites in the UK. Though many of the best betting websites for sports have a presence worldwide. The top international betting sites include: Betway, Bet365, LeoVegas, Unibet and 888sport.
Some bookies may be better or more popular in one country over another based on the betting offers they can provide, the banking options and mobile app availability, even if the odds are the same. Horse racing is more important to the UK, whereas cricket betting is more important in India. So be sure to compare the betting sites and work out which one best suits your needs based on their area of specialty.
How To Find The Best Bookies In The UK
The British market is the world's largest betting market. And with its great history of betting shops, it came as no surprise when online betting landed on the scene. Bookies from the UK were the pioneers. The likes of Betfair, Ladbrokes and William Hill have over 20 years experience online. Unsuprisingly, these established bookmakers have had the time to perfect their product and have built trust in their brand names over the years.
Classic bookies still draw in a lot of players, though many new betting sites are catching up to the point of establishing themselves more in the UK market within different niches. What we mean here is the likes of LeoVegas - who are well-known for their mobile-first approach to betting - or Parimatch, a top sports betting site who was granted a UK licence in 2020.
The betting market in the UK is great for the nation's players. Strict regulation keeps the industry in check, meaning more betting sites can be trusted with your safety. The abundance of gambling websites for sports means welcome offers and variety of odds are in fantastic supply as well. It's always recommended to choose a bookmaker that's licensed in your country, to ensure local rules are being followed.
UKGC Licensed Betting Sites
Every site that's listed on BetandSkill.com has a UKGC license, so you can rest assured the site is running fairly and legally. Here's a list of just some of the online UK betting sites - with their associated UKGC license numbers.
10bet - 43173
32Red - 39430
888sport - 39028
Bet365 - 39563
Betfred - 39544
BetRegal - 39383
BetVictor - 39576
BoyleSports - 39469
Bwin - 39011
Coral - 1611
GentingBet - 537
Givemebet - 45143
Interbet - 39335
Karamba - 39483
Ladbrokes - 1611
MansionBet - 39448
Mr Green - 19264
Mr Play - 39483
RedZoneSports - 45143
SportingBet - 1772
SportNation.bet - 45143
StarSports - 9177
TonyBet - 39126
Unibet - 45322
How We Rank The Best Betting Sites
Competition is fierce between the best online bookies, which is something that certainly plays to your advantage. This competition results in better odds and prices as well as better welcome offers and bonuses for new customers.
As we've touched upon earlier, there are numerous factors to take into consideration when rating the best sports betting sites UK. The most important factors being:
Licence - We always make sure the bookie you choose is licensed to operate in your country. At BetandSkill.com, the bookies are UK-based and you can take peace of mind from the fact they've been checked on the UKGC approved list. Customers from the UK are only allowed to place bets at bookies licensed by the Gambling Commission. The UK Gambling Commission was founded in 2007 and is responsible for regulating the online gambling and sports betting markets.
Odds and payout percentage - In order to get the most out of your betting, we choose bookies with competitive odds. Simply put, the higher the payout percentage, the higher the odds.
Variety of betting markets and sports - All the best sports bet sites offer odds on the big events, though the selection of odds can vary a lot between bookies when it comes to the lower leagues and more uncommon sports. We recommend most those bookies with a good selection of odds and markets for the sports and leagues you want to punt on.
Special functions such as live betting, live streaming and cash out - These features, especially live betting, have been developed quickly to match demand for them. A UK betting website with these functions will rank highly in our list.
Good welcome offers and promotions - Choosing a bookie with a good welcome bonus or promotion can set you up with a significant boost to your bankroll, so we rate highly ones that offer the best incentives, especially when it comes to recreational bettors.
Payment methods - The best UK betting websites offer a variety of payments whether that's via debit card, bank transfer, prepaid card, e-wallet or sometimes cheque. Those that have a variety of methods will score well for us. Knowing your preferred payment option and whether the bookie offers it before signing up is a good idea. Fees for transactions to and from your account are also taken into consideration.
There are also more factors than those stated above, and certain factors are more important depending on what niche betting site you're looking for. We have lots of pages on BetandSkill.com that made to help you find the best bookmaker for a certain market or feature - for instance the best football bookmakers or the best cash out betting sites.
How Betting Websites Have Evolved
Betting sites don't look like they did ten, or even five years ago. It's super competitive - that's not changed. New functions and features are always being developed to help make the best product possible. Lots of people think that bonus offers are the most important factor when it comes to choosing a bookie to bet with. We know it's more than that.
Other factors are just as significant. Having different betting markets, a good user interface or secure and varied payment methods are just some. And who benefits from all this competition to be the best? You, the punters.
As the betting world develops, betting websites have to adapt to these new changes. Once one bookie started with the cash out feature, for example, it soon become commonplace. Here at Bet & Skill, we are always keeping up to date on the latest features and rank our highlighted online bookmakers accordingly.
Better betting features, odds and selections
What can you bet on at a betting site? New ways of betting, in terms of events and special odds, are always being introduced by bookies as competition grows fiercer. Gone are the days of just your standard home/away win or draw bet types. Betting websites now offer odds on cards, corners or different handicaps. Using an Asian Handicap is one popular way of betting these days.
There's a huge range of different sports and events on which bets can be placed from football to tennis to horse racing. The events that generate the most buzz are the FIFA World Cup, English Premier League, Wimbledon, Cheltenham Festival and the Grand National. Some lesser-known modern sports and events are on the increase too. This big step forward by online bookmakers is exemplified by their offering of esports betting.
User interface
It's in user experience you can find quite a lot of difference between betting websites. And those bookies that are more mobile-focussed, find they are in a more advantageous position. Generally, punters today expect a great mobile experience, and in most cases choose a mobile app. The best betting apps are fast and boast a range of innovative features.
There are so many new bookies that have their mobile version as their main offering so as to help establish themselves better in the market. Those bookies who manage to create an incredible user experience, particularly when it comes to navigation, simple deposits, and live betting features tend to enjoy great success.
An important point to remember when choosing your next bookie is not to focus on the welcome offer alone: in the long run, user experience is what wins out.
Deposits and withdrawals
An area that many players have seen a lot of changes to is deposits and withdrawals. Different countries offer different payment methods which is worthy of note. It must be said though that in the UK, where we focus, the main payment methods are still debit cards and e-wallets.
Some punters worry about safety, though in general, bookies' online security is very high. All major sports betting websites use encryption and the latest coding technologies to ensure your money is safe. We will only ever list bookmakers you can trust.
Betting websites differ a bit when it comes to deposit and withdrawal methods. Some offer a lot of options from debit cards to e-wallets to bitcoin. Some offer the bare minimum. For most bettors, a debit card or e-wallet like PayPal is enough. What you should consider though is some methods include fees, so be sure to check all the terms and conditions before choosing.
FAQs About Betting Sites & Bonuses
What betting websites give you a free bet?
Lots of our recommended betting websites will offer free bets or a bonus as part of the the sign-up process. Just make sure you follow the link provided on our site to ensure you get the deal detailed as it may be exclusive to Bet & Skill. There may be more incentives subject to your betting activity and ongoing existing customer promotions on offer frrom time to time.
How long does it take to set up an online betting account?
Setting up an online betting account should take around 2 to 5 minutes. When it comes to completing verification, which is advisable to do, expect another 5 to 10 minutes to upload your documents and complete the requirements.
How do I claim my welcome bonus or free bet?
If needed, make sure you use the promo code we provide and go directly from the link here on BetandSkill.com. Be sure to read the terms and conditions so you understand the requirements before following the link and making your first deposit. Following the instructions on the bookies' site at registration (and entering the promo code at this point) should be enough to claim your bonus.
Are betting websites legal?
The betting websites recommended on BetandSkill.com are completely legal, licensed and subject to inspection by the UK Gambling Commission. We simply don't promote anyone who isn't transparent and secure in regards to safety and licensing.
How do I place a bet online?
If you've not placed a bet at a UK betting site before, then you must choose one of the sites from our list above and ensure you complete the online sign-up process. Once all set up, make your first deposit using your preferred payment method, then find the market or event you'd like to bet on from the navigtion and menu bar. Choose the team, individual, horse or whatever it may be, that you expect to win and want to bet on and select the price that's displayed. Then you have to choose the stake yo'd like to place on that outcome occuring and confirm your wager. You will have then placed your first bet.
What's the best online sportsbook site?
Check out our best betting websites that we've ranked in order based on factors like licensing, welcome bonuses, variety of betting markets and sports and loads more to ensure you get the best experience from your chosen sportsbook operator.
What's the best betting app in the UK?
It's hard to say definitively which is the best betting app in the UK, however we do consider the quality of the mobile experience and dedicated apps in our ratings of the best betting websites.
SHARE IT WITH YOUR FRIENDS
Let your friends know about this article! Share it on your favourite social media!