Scoop 6 Tips & Predictions. Copy and Win!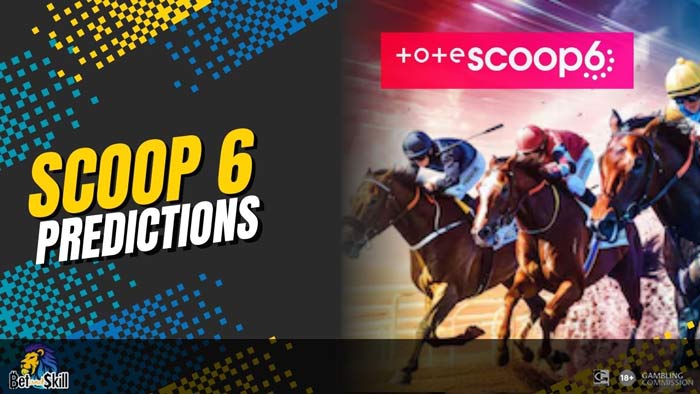 Scoop6 is a horse racing institution and is played by thousands every weekend. Sign up today and be in with a chance of winning big money! The Scoop 6 is a totepool bet which runs each Saturday on six selected races, usually ones that are being shown live on Channel 4. It costs £2 to play and the aim is to pick the winner of all six races. The Scoop 6 pool is split into three separate funds - the win fund, the bonus fund and the place fund.
Top Betting Sites Where To Play Our Scoop6 Tips
This Week's Scoop6 Tips & Info

Scoop6 is one of the most innovative ways to get involved in horse racing betting these days and try to win a real-money jackpot.
It's cheap to play and is much like playing the National Lottery, only with a better chance of winning.
It involves skill and a knowledge of the sport, and if you have that, well there's every chance of a win!
We love Scoop6 here at Bet & Skill and bring you the very best Tote Scoop6 predictions each and every week.
Below you'll find Scoop6 explained, along with today's Scoop6 races and what you should be playing. So, what are you waiting for?


Scoop6 Races for Saturday, January 28, 2023
This week's pool is made up of races from Cheltenham and Doncaster. The first four races will be shown live on ITV.

Leg 1 - 1:50 Cheltenham
Leg 2 - 2:40 Doncaster
Leg 3 - 3:15 Doncaster
Leg 4 - 3:35 Cheltenham
Leg 5 - 3:50 Doncaster
Leg 6 - 4:10 Cheltenham
There were 6 winners last weekend, winning £35,799 each! The six lucky punters will aim to add a further £75,848 to that this weekend and need to find the winner of the bonus fund.

If they fail, any winners from this week will be playing for a larger bonus fund next Saturday.


---
Follow us on Instagram or Twitter

Or share this article on your favourite social media

---
Our Scoop6 predictions:

Each week we get our horse racing experts to select our Scoop6 predictions to give you the very best chance of scooping yourself a jackpot.
You'll find our tips below and if you want to know about how to place Tote Scoop Six bets then you'll find everything you need to further down the page.
WHAT IS SCOOP6?
Scoop6 is one of the most exciting pool bets in sports betting and can be played each and every week.
Played every Saturday, the aim of the game is to select all six winners from six races, a little similar to Sky Bet's Super 6, and if you're successful you'll win a share of the Scoop6 jackpot.
It costs £2 to play each week and the prizes are regularly above £1million.
The winning funds is split into three funds, the win fund, the bonus fund and the place fund. The bonus fund is an added bonus you can win the following Saturday if you win this Saturday's Scoop6 races bet. All you have to do to win that is select a single winner on the following Saturday to unlock those bonus funds.
All win fund winners can register to play for the bonus fund the following week. To win a share of the bonus fund, you'll need to pick the winner of the nominated bonus race as selected by totepool.
The races featured by Totepool in the Scoop6 are almost always featured on ITV Racing, so you can even enjoy watching your jackpot roll in on a Saturday afternoon.
SCOOP6 ROLLOVERS
If nobody wins the jackpot or the bonus fund, then the totals are rolled over, just like the National Lottery, offering an even bigger prize as the weeks roll on.
It's well worth playing each and every week to be in with a chance to play for such high payouts, with very little needed to back your wager.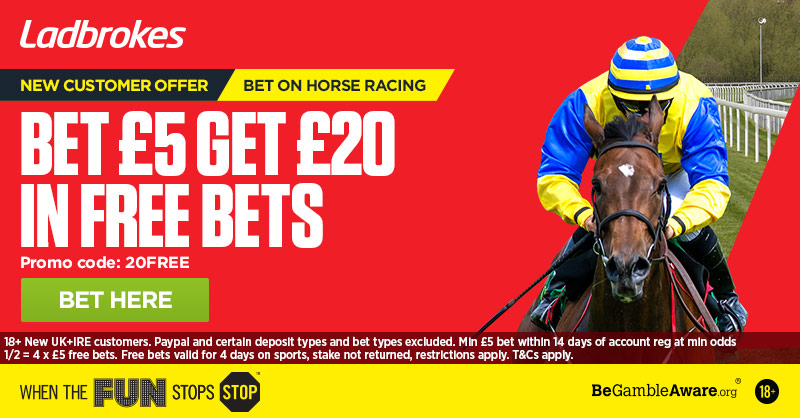 HOW TO PLAY TOTE SCOOP6
Scoop6 is an easy offer to place and can be done at various online bookmakers.
To play all you need to do is either follow our predictions by clicking 'Bet' on the races above, or head to a bookmaker allowing you to play Scoop6 online.
From there you'll find many of the major bookies offer a specific Scoop6 racecard, making it incredibly simple for you.
All you need to do is check your selections and bet your £2 to be in with a chance of winning.
You can only place your bets between a narrow window of around 9am on the Saturday through to around 1pm ahead of the first race. The time slots will be noted within the offer and varies between summer and winter.
WHICH BOOKMAKERS OFFER SCOOP6 ?
We have recommended three bookmakers for Scoop6 betting at the top of this page. Below you'll find more favourite online bookmakers allowing you to play Scoop6, all well worth playing with.
All the major players such as Betfair, Coral and William Hill allow you to play and you'll find a full table of the participating Scoop6 bookmakers below.
For further information on all the best bookmakers, head to our Best Betting Sites page where you'll find full reviews, alongside the best offers and all the details you need to sign up and start playing with them.
WHY PLAY SCOOP6 TODAY

There are dozens of brilliant reasons to play Scoop6, the majority of which boiling down to one thing, it's a cheap way to earn a massive payout.
It's well worth following our Scoop6 tips every week to give yourself the very best chance, particularly on rollover weeks where the winnings are huge.
For the casual punter it's a great way to learn the basics of horse racing betting as it's ultimately like playing a large horse racing accumulator. You can then take that knowledge into the full Sportsbook and even cash in on a free bet or two.
What's more, it's a lottery-type bet that is completely in your own hands. All you need to do is select your winners...
How We Select our Scoop6 Predictions
Like any horse racing prediction we consider a variety of factors before delivering you our Scoop6 tips. We have a team of experts with years of experience in both this particular game and betting on the horses, and they take into account many things before offering up recommendations, including many aspects that go way beyond scanning the racecard.
Among the key considerations when making our Scoop6 predictions are:
Horse Form
The Full Field
Rider Form
Rider Familiarity with Horse
Course & Distance Analysis
Ground Type
Weather
Trainer Success
Other Tipsters/Insiders Thoughts
Which Racecourses Does Scoop6 Have Races From?
Every weekend you'll have to pick six predictions from a variety of racecourses, all of which can differ on a weekly basis. They are generally taken from those meets that are being televised by ITV Racing, although that isn't always the case.
That means one Saturday you may have Scoop6 races from Newcastle and Newmarket, and on another weekend they could come from Ascot or Aintree. That's why it's always a good idea to see how the main contenders within the race have previously performed over course and distance.




Open a new account with Betfred here!
Bet & Skill Horse Racing Predictions

If you're looking for more horse racing predictions beyond the Scoop6 promotion, you'll find tons to enjoy across the Bet & Skill website.
Our Horse Racing predictions page is bursting with odds and tips each and every day, as well as dozens of great offers and free bets to use alongside them.
Just because it isn't Saturday, doesn't mean we aren't here to help. So, if you're looking to place a bet on horse racing from Monday to Friday, or weekend punts outside of the six, then take a look at our predictions or NAP of the Day and start betting today!
Scoop6 FAQs
When are the Scoop6 races for Saturday posted?
They will typically be announced by early afternnon on the Friday before. Please bookmark this page and check back later to get the latest tips on bets.
Where can I find the Scoop 6 results?
If you can't watch the race live on ITV Racing, the Scoop 6 race winners can be found on your chosen bookmaker's website, whether that be Totesport, Betfred or Ladbrokes.
What are Scoop 6 rollovers?
If no-one gets the Scoop 6 win dividend on a given Saturday, its value is rolled over. Much like the lottery, it becomes part of the win fund for the following weekend's Scoop 6.
How do I place a Scoop 6 bet online?
The Totesport website, amongst other bookmakers like Betfred and Ladbrokes are the best ways to place a Scoop 6 bet online. The Scoop six coupon will be available from the 'Bet Types' menu, under multi-leg bets.
How is the Tote Scoop 6 prize pool calculated and shared out?
The Tote takes 27% from the total win pool of bets placed by players, to cover operating costs. The remaining 73% is divided amongst the lucky Scoop 6 winners.
What happens if one of my Scoop6 picks is a non-runner?
The rules state in the event of Scoop 6 non-runners: "If any of the horses in your Tote Scoop6 bet are subsequently non-runners, your stake will automatically be moved on to the unnamed favourite of the race at the off."
If there are joint or co-favourites, the highest racecard number will carry your money. For example, if no 1 and no 3 are joint-favourites, no 1 will stand in place of the non-runner you selected.
SHARE IT WITH YOUR FRIENDS
Let your friends know about this article! Share it on your favourite social media!