How to Play Ten to Follow At Totesport
Simply select 10 horses from the list of horses to compete in the 2019/20 Jump season Ten to Follow competition which runs from Wednesday 20th November to Cheltenham Gold Cup Day at the Cheltenham Festival. Find here a complete guide, rules and tips!

Totepool have teamed up once again with the Racing Post to give you an opportunity to showcase your horse racing knowledge. The winner of the 2019/20 Jump competition took home at least 175,000 as the guaranteed prize pool is worth £250,000.
The Ten to Follow is run as a pool, like all the other Tote bets, so the more people that play the larger the prizes will grow. Should 200,000 stables be entered that will grow to over £600,000! If there will be 400,000 entries it would swell to over £1.25 Million! During the season there are prizes of £10,000 for the stables scoring the post points in each of the months of December, January, February and March.

So make sure you tell your friends. The game is open only to UK residents and entry is strictly online only.

Will you win a mind blowing sum with this year's competition?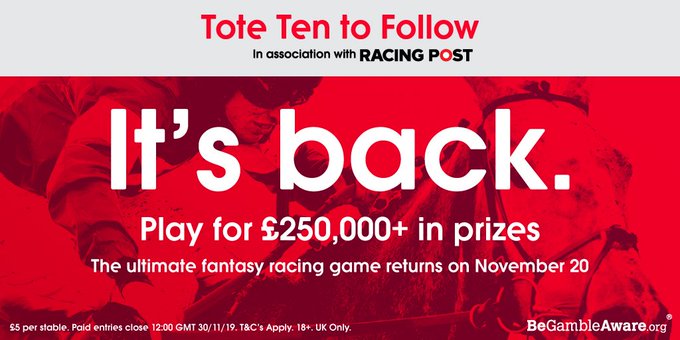 HOW TO PLAY TEN TO FOLLOW
From the 20th November you'll need to select 10 horses from the list of horses provided to complete your stable. Pick as many stables as you want before the closing date for entries on the 30th November.

The season-long competition remains open until 2020 Cheltenham Gold Cup day; however to stand the best chance of winning the great prizes on offer, try to get your entries in prior to the first race on Wednesday 26th November 2019. You will not receive points from any races held prior to placing your entry - you begin to score points from the next scheduled race. This is calculated using the advertised race time, not the actual start time of a race. The competition ends on Saturday October 19th.

Register a new account with Totesport.com

Choose a stable of 10 horses, including a star horse. You can have as many stables as you like.

Each stable will cost £5 to enter and you can play as many times as you wish.

There will also be a free to play version of the Ten to Follow with a £10k prize.

Prize Money Points
Selections winning Jump races (under the Rules of Racing in Great Britain or Ireland) during the period of the competition will be awarded points as follows:
Horses score points for each race they win during the season, with the points on offer depending on the level of the race:


A Grade 1 is worth 25 points
A Grade 2 is worth 20 points
A Grade 3 is worth 15 points
Any Listed race is worth 12 points
Any other race is worth 10 points

There are 15 Ten to Follow bonus races that award an extra 25 points to the winner and 12 points to the runner up.

In the event of a dead-heat, points will be divided by the number of horses dead-heating with fractions rounded down. No points for a walkover. The official result on the day will be used for the calculation of points with any subsequent disqualifications disregarded.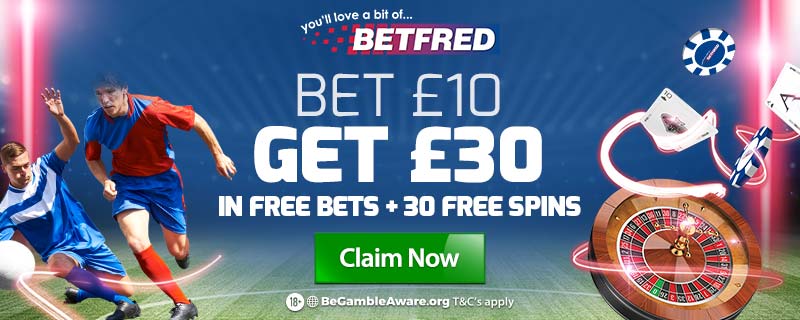 Bonus Race PointsAn additional 25 points will be awarded to the winner and 12 points to the runner-up in each of the bonus races. The following are the key dates..
Ten to Follow Key Dates
November 14 : Register your interest form available.
November 18 : Register before the end of the day to be entered into the Cheltenham Gold Cup tickets competition.
November 20 : Players will be able to start building their stable(s).
November 30 : Entries close at Midday.
November 30 : Bonus race @ Newbury : LADBROKES TROPHY (HENNESSY)
December 26 : Bonus race @ Kempton : KING GEORGE VI
December 27 : Bonus race @ Chepstow : CORAL WELSH NATIONAL
December 31 : £10,000 prize for best performing stable in December.
January 31 : £10,000 prize for best performing stable in January.
February 1 : Bonus race @ Leopardstown : IRISH CHAMPION HURDLE
February 29 : £10,000 prize for best performing stable in February.
March 2 : Transfer window opens at 8am allowing up to two substitutions per stable.
March 9 : Transfer window closes at 5pm.
March 10 : Bonus race @ Cheltenham : ARKLE
March 10 : Bonus race @ Cheltenham : CHAMPION HURDLE
March 11 : Bonus race @ Cheltenham : QUEEN MOTHER CHAMPION CHASE
March 11 : Bonus race @ Cheltenham : RSA CHASE
March 12 : Bonus race @ Cheltenham : STAYERS HURDLE
March 12 : Bonus race @ Cheltenham : RYANAIR CHASE
March 13 : Bonus race @ Cheltenham : CHELTENHAM GOLD CUP
March 31 : £10,000 prize for best performing stable in March.
April 4 : Bonus race @ Aintree : AINTREE HURDLE
April 4 : Bonus race @ Aintree : GRAND NATIONAL
April 18 : Bonus race @ Ayr : SCOTTISH GRAND NATIONAL
April 25 : Bonus race @ Sandown : bet365 GOLD CUP
April 25 : Last day of the competition.

Tote Dividend Points
Tote dividend points will be awarded according to the official totewin and toteplace dividend odds - including a £1 unit stake - as follows:
Win dividend – straight conversion from £'s to points. For example for a £9.40 win dividend the horse is awarded 9.40 points, £15.30 is awarded 15.30 points etc. Horses finishing first will not receive the place dividend.
Horses that finished placed will only receive the toteplace dividend points (unless finishing second in the bonus races detailed above). This will be on the same criteria as above - i.e. £7.20 equates to 7.20 points.
The maximum tote dividend points earned by a horse, in a race is 50 points. So if a horse was returned at a totewin dividend of £67.50, the number of points earned would be 50.
See 'Star Horse' section below for more details on the 50 point cap.
If no totewin/toteplace dividend is declared, the Starting Price will determine any tote dividend points using standard each-way terms. Should neither a totewin dividend nor a Starting Price be returned, Tote dividend points will not apply.
Quick Guide - how the points worksBig Buck's wins the Liverpool Hurdle
(1st place prize money worth £56,270)
with totewin dividend of £2.80

Points Breakdown for Big Buck's

Prize money for winner is above £30,000

points prize money: 25.00

Race is not a bonus race

points bonus race: 0.00

totewin dividend points

points win dividend: 2.80

Big Buck's was chosen as a star horse in the stable therefore double points are awarded to win/place dividend points

points star horses: 2.80

Big Buck's earns a total of

points total 30.60

SHARE IT WITH YOUR FRIENDS
Let your friends know about this article! Share it on your favourite social media!