Bet365 6 Scores Challenge | How To Play & Win £1 Million Jackpot
Bet365 have launched "6 Scores Challenge", free jackpot-style score predictor game. It's free to play and available weekly. Predict the score of six Soccer matches to win the jackpot. Don't get all six? Prizes are available for three, four and five correct predictions. Read here how to play Bet365 6 Scores Challenge, our best tips and predictions to win the 1,000,000 jackpot!
What is Bet365 6 Scores Challenge?
"Six Scores Challenge" is a free-to-play predictor game developed exclusively by Incentive Games for bet365 to engage wider football audiences.
As you can imagine, the objective of the game is predicting 6 correct scores in order to a huge jackpot prize. Anyway, you will also earn smaller prizes for making three, four or five correct predictions.
6 Scores Challenge is to be used primarily for the English Premier League but is also to be rolled out for other football leagues and sports.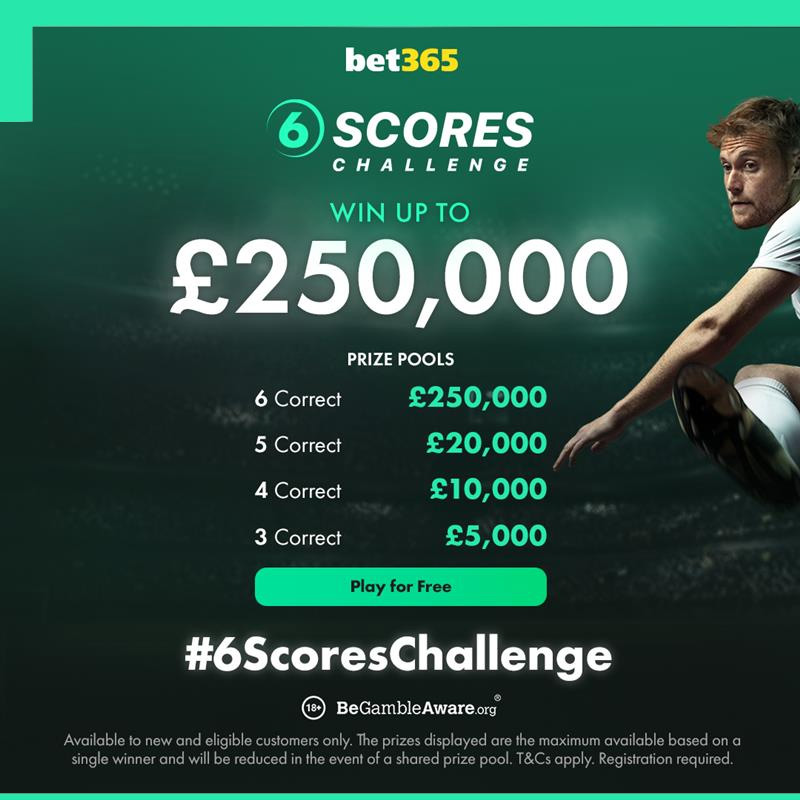 How To Play 6 Scores Challenge
This game is only available to Bet365 new & eligible customers. Click here to open a new Bet365 account or login your existing one.
Go to '6 Scores Challenge' page under the Sports or Promotions tab.
Predict the correct score for the nominated fixtures, as displayed in the 6 Scores Challenge section.
Confirm your predictions and cross your fingers!
Bet365 6 Scores Challenge Predictions
How Much Can I Win?
Bet365 have confirmed they will offer a £1,000,000 jackpot until it's won.
If multiple players predict all six correct results, of course the jackpot will be shared equally between all winners.
As mentioned above, Bet365 will reward all entrants getting 5, 4 and 3 correct scores according to this schema:
3 Correct Scores: £5 in bet credits
4 Correct Scores: £50 in bet credits
5 Correct Scores: £1000 in bet credits
Bet365 6 Scores Challenge vs Sky Super 6
6 Scores Challenge is, in both name and function, similar to SkyBet's Super 6 – a no-bet app that encourages traffic to the Sky Bet site.
One advantage bet365 may have over Super 6, anyway, is the smaller prizes on offer (£5 for three correct predictions, £50 for four and £1,000 for five) as SkyBet is not rewarding players falling short on one, two or three results.
More Free Frooball Prediction Games
Looking for more free football prediction games with huge prizes? We got you covered! Find below all the betting competitions you can enter with no deposit required!
Frequently Asked Questions
Can I also get a sign-up offer at Bet365?
All new customers at Bet365 are eligible for a welcome bonus. You can find all the details in the box below:
Make sure to get the best Bet365 free bets and bonuses by checking our Bet365 bonus code page.
How Many Entries Can I have Every Week?
Only one entry is permitted per person for each round of 6 Scores Challenge.
Can I modify my predictions?
Entry for each round is available until the first fixture kicks off, and your existing entries can also be edited until this time.
How are correct scores determined?
For the purposes of settling a 6 Scores Challenge game, results are based on the outcome of the Full Time Result market (90 minutes play, lu injury time). Extra-time and penalty shootouts are excluded.
What happens if a game is postponed?
Where a fixture is postponed or otherwise void for normal settlement, that game will no longer count towards 6 Scores Challenge. The prize structure for that round will be amended according to the number of remaining fixtures.
Where can I find all my 6 Scores Challenge entries?
Your previous and active 6 Scores Challenge entries are displayed under My History on the 6 Scores Challenge page.
Can I play more free predictions games at Bet365?
Bet365 have recently launched "Goals Giveaway", a free-to-play game in which players can earn bet credits (a.k.a. free bets) by revealing up to five football matches each week andwinning prizes based on how many goals are scored in each game.


Terms and Conditions
You are responsible for any tax obligations (reporting and / or tax settlement) that are applicable in your jurisdiction in relation to any deposits, stakes or entry fees or any winnings/prizes or losses as the case may be. Prize values displayed are exclusive of any tax deductions (where applicable).
The 6 Scores Challenge feature is available at the discretion of bet365 and bet365 makes no guarantees regarding its availability. bet365 will not be responsible if the 6 Scores Challenge feature is not available for technical reasons.
bet365 reserves the right to reclaim any prize-money awarded for a 6 Scores Challenge entry if the outcome of a fixture within the relevant game was determined in error.
bet365 reserves the right to accept or decline any 6 Scores Challenge entry.
bet365 reserves the right to amend, suspend or remove the 6 Scores Challenge feature (or any part of it) for any event, fixture or customer.
bet365 reserves the right to remove the 6 Scores Challenge feature for any customer or group of customers where it has reasonable grounds to believe that the customer or groups of customers is misusing the feature.
SHARE IT WITH YOUR FRIENDS
Let your friends know about this article! Share it on your favourite social media!