Betfred Nifty Fifty Results & How To Play
If you're a fan of lotto, then forget the twice a week National Lottery draw and consider BetFred's Nifty Fifty, a lottery game which is played five times per day! It's played in much the same way as the lottery, and offers payouts up to a whopping 5,000,000/1! Below you'll find the latest Betfred Nifty Fifty Results all you need to know about BetFred Nifty Fifty, including what it is and exactly how you play…
Latest Betfred Nifty Fifty Results
Are you looking for Nifty Fifty Results today? Click the image below to reveal the latest Nifty Fifty Results. These are updated instantly after the daily 10.30am, 11.30am, 12.30pm, 2.30pm and 6.30pm draws.
What Is The Nifty Fifty?
The Nifty Fifty is a lottery style game which is played five times daily on the Betfred website and in their high street bookmakers.
It launched in May 2020 and has since become one of the most popular games featured on the Betfred website. It is proving popular in the Betfred app too.
The aim of the game is to correctly predict the numbers to be drawn, with increasing payouts for the more numbers matched.
How Do You Play The Nifty Fifty?
Register a new Betfred account (or login your existing one) via this special link.
Select the Nifty Fifty from the Lotto page.
Add 6 or 7 numbers to your bet slip or click "Lucky Dip" for random selection.
Opt for the draw you want to place a bet on – you may wager on all three.
Choose a bet type from the drop-down menu, choose the type(s) of bet you require in the betslip. Click 'More Bets' for a greater range of options. This can include permutations or multiple bets. (eg. Lucky15 or Patent).
Select which draw(s) you wish to bet on via the 'Choose Draws' page. You can bet on any one draw up to all five if you choose (and up to 4 weeks in advance!).
Enter an amount you would like to stake and click on "Place Bets".


Don't forget you place your bets by 15 minutes before the seven ball draw takes place.
How Does Betfred Nifty Fifty Work?
Betting on the Nifty Fifty is very simple, as the draw made from 50 balls.
Six balls are drawn for The Nifty Fifty plus a bonus ball and players are required to bet on 1, 2, 3, 4, 5 or 6 balls. You can then choose to decide whether you want to include the bonus ball within the bet, with the odds slightly lower when played with seven balls.
Players must select the number of balls they want to bet on, and in order to win you must match that number. For example, if you bet on four numbers, you must match four numbers in the draw to win.
It is possible also to bet on odds and evens with the Nifty Fifty, as well as a number of different permutations such as a Patent bet or Lucky 15.
Three is the most common number people bet on, which pays out at 800/1.
The Nifty Fifty Payouts
The Nifty Fifty pays out for as little as one matching number, with a maximum win of £5,000,000 available in the game (if you match all 6 numbers in the six ball draw).
As mentioned you can bet on numbers in both the six ball or include the bonus ball option, essentially giving you a chance from seven balls.

You may select up to 11 lucky numbers for the purpose of permutations, e.g. perm any 6 from 11.
Below you'll find the payouts for each bet available in The Betfred Nifty Fifty Lotto (fixed odds)…
| Numbers Matched | 6 Ball Draw Pays | 7 Ball Draw Pays |
| --- | --- | --- |
| 1 | £7/1 | £6/1 |
| 2 | £70/1 | £50/1 |
| 3 | £800/1 | £500/1 |
| 4 | £10,000/1 | £5,500/1 |
| 5 | £200,000/1 | £60,000/1 |
| 6 | £5,000,000/1 | £150,000/1 |
*All pay calculated to a £1 play
Other Lotto Games by Betfred
Betfred offer a wide range of other lottery games (including international lotteries) and play-lucky-number titles in addition to the Nifty Fifty lottery. Actually, this gambling operator has been a long-time market leader in the lottery betting industry, establishing their commitment to Irish, 49's and Daily Millions betting in their high street shops since the mid nineties.
Irish Lotto
The Irish Lotto has over 25 years of history. It first started as a lotto broadcast on the Irish RTE television, with the draws taking place every Wednesday and Saturday at 8 pm. Simply select from numbers 1-47 or click 'Lucky Dip' to have your numbers randomly generated for you. You can win up to £150,000/1!
Betfred 49's
Betfred's 49s lotto game can be compared to the Nifty Fifty game from the same operator. The draw is held twice a day, with odds ranging from 6/1 to 160,000/1. There are 49 balls in the draw – two more than the Irish Lotto – and all you have to do is to guess which of them will come out of the proverbial hat.
New York Lotto
NY Lotto is similar to other jackpot games like Mega Millions and Powerball. The more numbers you match, the more you win. Select 6 numbers from 1-59, then wait for your drawing! You can also choose to play a seven number draw, select a bonus ball to increase your chances of winning. Moreover, you can make things even more enjoyable by placing special bets such as a Trixie bet or a Lucky 15.
Daily Million
A leading online lotto game played in Ireland, the UK and around the world. The Daily Million has its draws on a daily basis. It is available for both single and multi-bets. What makes this Betfred lotto different is that it has 4 draws a day.
Other lotteries you can play at Betfred are Fred's Number Game (20 Ball Draw and 49 Ball Draw), French Lotto, Polish Lotto, Spanish Lotto, German Lotto, Canadian Lotto, Greek Lotto and Australian Lotto.
Nifty Fifty Results FAQs
When Does The Nifty Fifty Draw Take Place?
The Nifty Fifty can be played every day, every day of the week, live from the Betfred studios in Warrington, UK. Three Nifty Fifty draws were originally scheduled at 11:30 AM, 2:30 PM and 6:30 PM, but Betfred have recently increased the number of daily draws to five. The draws take place at the following times:
10.30am
11.30am
12.30pm
2.30pm
6.30pm
We update Nifty fifty results of each specific draw on this very page as soon as every the draw is completed.

You can also watch and check the Nifty Fifty Lotto results in real-time on Betfred's Youtube channel.
Can I play Nifty Fifty for free?
Nifty Fifty is not free to play. You must have a minimum stake of £0.50 to play the game. The maximum stake per line has been set at £10 – but it's worth bearing in mind that anyone who wants to bet on multiple lines can do so for less than £0.50 a line, as long as the total stake is at least £0.50.
If you want to take part in a free-to-play game, we recommend you to play Betfred Mistery Free Spins, a game that rewards all customers with a daily prize, with absolutely no deposit required. You can win up to 50 free spins with
Mystery Free Spins
every day, forever (or 100 free spins if you play £10).
When do I have to place my bets by?
You normally have to place your bets by 15 minutes before the draw takes place.
Which bookmakers offer Nifty Fifty lottery?
At the moment, you can play the Nifty Fifty lottery only through the Lotto section at Betfred. No other betting sites are offering this lotto game. Wanna join Betfred? Take a look at our exclusive Betfred promo codes here.
How do I bet on the Nifty Fifty Lotto?
You can play the Betfred Nifty Fifty in three simple stes: choose the numbers that you wish to bet on between 1 and 50, add them to your betslip, add your stake and confirm your bet. Each bet can range from 50p to £10.
Can I play the Nifty Fifty Lotto Game from the Betfred Lotto App?
Yes, you can play the Nifty Fifty Lotto Game at the Betfred mobile app.
How many players have won £1+ million with Nifty Fifty?
The game has created at least eight millionaires since it first appeared in 2020.
When are the Betfred Nifty Fifty Results updated?
We strive to update the latest Nifty Fifty results (alongside with other lottery results) as soon as each Betfred Nifty Fifty draw is completed.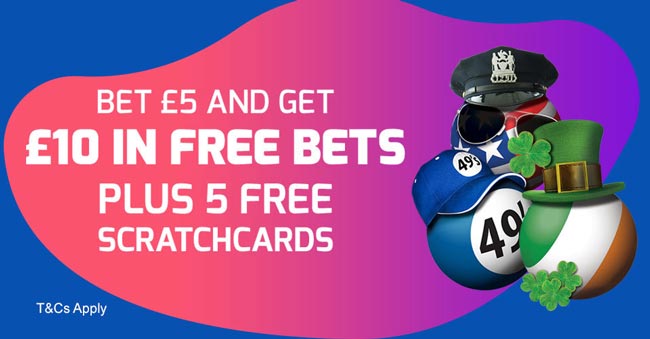 Things To Note About The Betfred Nifty Fifty Lotto
There are a number of things to note about this BetFred lotto game. Key things to take into account are:
Bets need to be placed at least 15 minutes before the draw is made.
Players must be over the age of 18-years-old.
The minimum bet on The Nifty Fifty Lotto is £0.50.
The maximum payout regardless of your stake is £5,000,000.
The game can be played in store, online and via the BetFred Lotto app.
SHARE IT WITH YOUR FRIENDS
Let your friends know about this article! Share it on your favourite social media!