Betfred Nifty Fifty Results & How To Play
If you're a fan of lotto, then forget the twice a week National Lottery draw and consider BetFred's Nifty Fifty, a lottery game which is played three times per day! It's played in much the same way as the lottery, and offers payouts up to a whopping 200,000/1! Below you'll find the latest Betfred Nifty Fifty Results all you need to know about BetFred Nifty Fifty, including what it is and exactly how you play…
Latest Betfred Nifty Fifty Results
Check out below the latest Nifty Fifty Results. These are updated instantly after the daily 11:30am, 2:30pm and 6:30pm draws.
What Is The Nifty Fifty?
The Nifty Fifty is a lottery style game which is played three times daily on the Betfred website and in their high street bookmakers.
It launched in May 2020 and has been a real hit since.
The aim of the game is to correctly predict the numbers to be drawn, with increasing payouts for the more numbers matched.
How Do You Play The Nifty Fifty?
The Nifty Fifty is simple to play, with the draw made from 50 balls.
Six balls are drawn for The Nifty Fifty plus a bonus ball and players are required to bet on 1, 2, 3, 4 or 5 balls. You can then choose to decide whether you want to include the bonus ball within the bet, with the odds slightly lower when played with seven balls.
Players must select the number of balls they want to bet on, and in order to win you must match that number. For example, if you bet on four numbers, you must match four numbers in the draw to win.
It is possible also to bet on odds and evens with the Nifty Fifty, as well as a number of different permutations such as a Patent bet or Lucky 15.
Three is the most common number people bet on, which pays out at 800/1.
Wanna play the Nifty Fifty? Click the image below..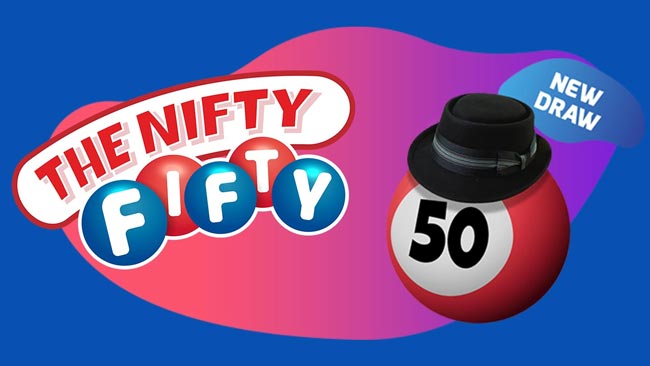 The Nifty Fifty Payouts
The Nifty Fifty pays out for as little as one matching number, with a maximum win of £500,000 available in the game.
As mentioned you can bet on numbers in both the six ball or include the bonus ball, essentially giving you a chance from seven balls.
Below you'll find the payouts for each bet available in The Nifty Fifty (fixed odds)…
Numbers Selected
6 Ball Draw Win
7 Ball Draw Win

Numbers Selected

1

6 Ball Draw Win

7/1

7 Ball Draw Win

6/1

Numbers Selected

2

6 Ball Draw Win

70/1

7 Ball Draw Win

50/1

Numbers Selected

3

6 Ball Draw Win

800/1

7 Ball Draw Win

500/1

Numbers Selected

4

6 Ball Draw Win

10,000/1

7 Ball Draw Win

5,500/1

Numbers Selected

5

6 Ball Draw Win

200,000/1

7 Ball Draw Win

60,000/1
Nifty Fifty Results FAQs
When Does The Nifty Fifty Draw Take Place?
The Nifty Fifty can be played every day, every day of the week, live from the Betfred studios in Warrington, UK. The draws take place at the following times:
We update Nifty fifty results on this very page as soon as every the draw is completed.
When do I have to place my bets by?
You normally have to place your bets by 15 minutes before the draw takes place.
Which bookmakers offer Nifty Fifty lottery?
At the moment, only Betfred offers the Nifty Fifty lottery. Wanna join Betfred? Take a look at our exclusive Betfred promo codes here.
How do I bet on the Nifty Fifty Lotto?
You can play the Betfred Nifty Fifty in three simple stes: choose the numbers that you wish to bet on between 1 and 50, add them to your betslip, add your stake and confirm your bet. Each bet can range from 50p to £10.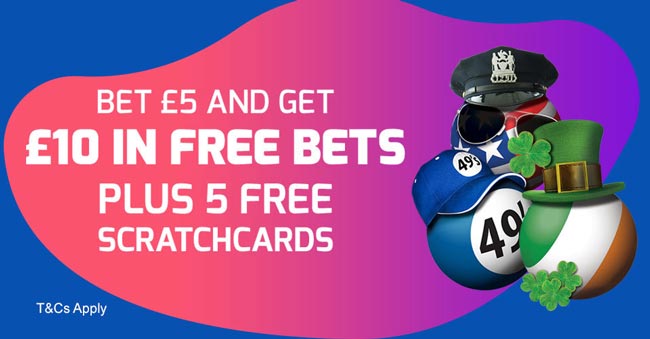 Things To Note About The Nifty Fifty
There are a number of things to note about this BetFred lotto game. Key things to take into account are:
Bets need to be placed at least 15 minutes before the draw is made.
Players must be over the age of 18-years-old.
The minimum bet on The Nifty Fifty is £0.50.
The maximum payout regardless of your stake is £500,000.
The game can be played in store, online and via the BetFred Lotto app.
SHARE IT WITH YOUR FRIENDS
Let your friends know about this article! Share it on your favourite social media!