Aviator Casino Game: How To Play & How To Win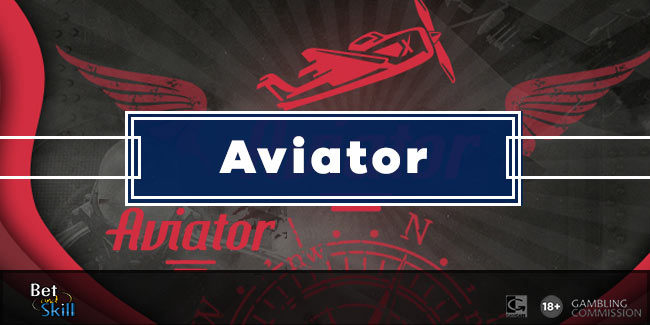 Developed by Spribe, Aviator is a game changer in the gambling industry as it takes online gaming to a whole new level with its innovative format. Despite being online since 2019, this game has only recently established itself as fans favourite, primarily because it's a unique style of casino game. In this guide you will learn how to play Aviator, where to play for real money, how to win and the best strategies.

Best Casinos Where To Play Aviator
Before learning how to play Aviator properly, it is important that you find the top online casino sites to play this game. After multiple tests, we conclude that the following casinos are the best ones to play Aviator online.
What is Aviator Casino Game
Aviator is a new kind of social multiplayer game and the name itself here reveals a lot. Once you enter the game you will see the plane flying up and then crashing at some point.
Hence, Aviator is not what you call a typical slot game as it doesn't have reels, paylines, or even symbols. The concept is pretty simple - an airplane flies up and the multiplier starts growing. It starts at 1x and can grow up to infinity.
The longer it flies, the more you can win.
The aim of the game is straightforward: cash out your winnings before the plane crashes or flies away!
If you will not manage to do so – your bet will be lost.


How to play Aviator casino game
The game interface is divided into 3 parts:
In the central part there is a small plane. It takes off then quickly gains height. The higher it goes, the more the bet multiplier increases.
Under the central part is your cockpit, the location where you manage your own bets: it is from there that you interact with the game.
On the left side are the avatars of the other players present in the game. Here you can see the moment when everyone withdraws their stake. You can also find the history of your winnings and the biggest winnings for all players.
Let's see how to play a round:
Place the bet of your choice before the round starts. You have around 30 seconds to place your bets. You can also place two bets for the same round.
As the lucky plane flies up, the multiplier will be increasing.
Press the cash out button before the plane crashes.
Your win will be multiplied by the plane's coefficient depending on where you stopped.
If the plane crashes or flies away before you cash out, your bet is lost.
The tricky part of this slot is that you can miss out on high rewards if you cash out too early.
Aviator Advanced Betting Options
Aviator offers three special betting features: separate bets, auto bet and auto cashout. Learning how to use these betting options can make the difference.
With separate bets you place multiple bets for the same rounds.
Through the auto bet feature you can set an amount of rounds in which your bets will be automatically placed.
The auto cashout feature allow to set up beforehand the multiplier. And if the plane does not crash before it hits the mark, the automatic feature cash out on your behalf.
Aviator Special Features
Spribe has introduced many special features and integrated tools in order to add more fun and excitement for the players.
Aviarace Tournaments
Aviarace Tournaments are a series of events that can be played along with normal betting. With each win, players earn bonus points. When the race has been completed, top players receive additional giveaways and prizes. Such extra prizes include cash, free bets, and special perks.
Rain Promo
Rain Promo is very interesting too. This special promo feature adds amount of free bets into chat, at random times. Any player can claim these free bets by taping on "claim" button.
Free Bets
Aviator by Spribe is a game with high returns, and most gambling operators exclude it from promos. Anyway, due to its popularity, we are sure the best online casinos will start offering welcome bonuses for new players and no deposit free spins on Aviator too.


How to win: Best Aviator Game Strategies
First of all, should know that all the casino games have a house edge, meaning that in the long run the casino will always win (3% of the total handle for Aviator).
Anyway, this doesn't mean that all the players will be losers. A part of the total players will be winners, and a slightly bigger part will be losers.
Another important thing to note is there is no way to predict the outcome of this game because it is 100% random. The airplane can very well crash at 1.01x three times in a row, or fly to 100x, then 25x, then 80x. This is what makes this game so great.
Hence, the most profitful strategies here are related to bankroll and risk management. By using these techniques you can maximize your betting and stay afloat longer.
Let's take a look at our recommended strategies...
The Double Bet Strategy
A proved strategy is placing a big bet that you withdraw early and at the same time placing a low bet on which you aim for a big multiplier. Adjust bets and cashout settings depending on your bankroll and session balance. Set your limits (including the 'stop loss') and take the profits when you reach your desired profit.
The Early Cashout Strategy
Another strategy can be to opt for a volatile play style. For this technique, the idea is to bet higher than you usually would and to withdraw on low multipliers.
Hence, the strategy here is to have recurring gains, and to withdraw your winnings from the casino as soon as you made enough profit.
Stats-Based Strategy
By observing live statistics, you can see when to wager as there's a chance of a high multiplier/coefficient.
First, you want to wait for a series of low multipliers/coefficients of 1.00 to 1.50x appear in a row, for example, 5-10 times. When that happens, enter the next round. Place two bets of equal amounts, and set the first bet as "Auto Cashout" at 2.00x.
Use the second bet to get a multiplier that is equal to the average of the last 10-20 rounds.
Avoid Martingale
Many casinos recommend the Martingale as a good Aviator strategy. In our opinion, this is a high risk - low profit strategy and we strongly do not recommend it. Sooner or later you will get a losing run that will destroy your bankroll. Furthermore, most casinos clearly announce it is forbidden on their terms & conditions.
More online Casinos where you will find Aviator
You can play the Aviator game on many of the new online casino sites (expecially the ones that accept cryptocurrencies). For more convenience, we have compiled a list or our favourite online casinos where you will find the Aviator slot in Great Britain and abroad.

Frequently Asked Questions
How does Aviator work?
Aviator is a game that belongs to the crash category and is based on a Random Number Generator (RNG), a provably fair technology.
It includes an increasing curve using an airplane that starts flying at the beginning of the round.
A random number creates the coefficient at which the plane crashes before the beginning of the round.
As a result, every round in this casino game online is random so nobody can know at which point the airplane is going to crash.
Why Aviator game is so popular?
Playing online Aviator is very entertaining. This game is not like other casino games. It's not all about choosing the right moment to cash out. It's a new kind of entertainment as it introduces many social elements and turns players into a community. The main social features are:
In-game chat: you can interact with other players via the chat tool on the right and make friends while playing!
Live Bets: everyone can see how much other players are betting and winning.
Live statistics: you can check out the leaderboard with the biggest cash wins and multipliers scored in a day, month, or year.
Another important reason is that you are at the helm. You are the only one to decide when you want to cash out your winnings.


How much can I win?
The multiplier scale starts at 1x, and the number is growing as the plane is flying. Your bets are multiplied by the number displayed at the moment of withdrawal, and it equals your winnings.
The game gives players the opportunity to win 100 and even 1000x multipliers. Actually, the multiplier/coefficient in Aviator can range from 1.00x to even 1,000,000x.
Remember that there are occasions when a airplane crashes immediately after the start of the round, leaving everyone with an empty balance.
What is the Return To Player (RTP) and volatility of the Aviator Game?
Aviator online casino game has a very fair RTP of 97%.
As the game is built around the philosophy of "player control", this means that you make the decisions and you can ultimately adjust the outcome or volatility of the game. The earlier you cash out your winnings, the lower the risk or volatility of the game.
Are there other online casino games similar to Aviator?
Aviator is the most popular crash game on the Internet, not only in Great Britain but worldwide.
JetX is another arcade looking slot game that was created by SmartSoft Gaming and it's very similar to Aviator. jet takes off and starts flying until it crashes. As long as it flies and rises higher and higher, the multiplier that is attached to it keeps growing. When it crashes, the round is over.
Is Aviator a fair casino game?
Absolutely yes. It is based on a Random Number Generator, it is checked and licensed by the UK Gambling Commission (and many other regulators in the industry) and it has a return to player pecentage of 97%.
As a result, the game ensures fairness and safety to its customers since it is developed using a provably fair system that allows players to experience a comfortable environment for gambling and makes sure to prevent any kind of third-party involvement in the game.
How do I download Aviator slot?
If you want to play Aviator Casino Game, you do not have to download it. You can play it online, even on mobile without downloading any app.


Is the Aviator slot available on mobile devices?
Of course it is. Aviator slot is compatible with all known devices, including PCs, tablets, and smartphones under the operation of either Windows, macOS, iOS, or Android.
Where can I play Aviator slot demo version?
Unfortunately, due to recent changes in the Gambling Commission marketing guidelines, we can't offer free demo games anymore. Anyway, you can play the aviator game with fun money with many online casinos. The demo version or fun mode lets you make imaginary bets. This allows you to get used to the interface before playing for real.
SHARE IT WITH YOUR FRIENDS
Let your friends know about this article! Share it on your favourite social media!