Lucky 15 Tips For Today & Tomorrow
One of the most popular multiple bets in horse racing is the Lucky 15. We compile our Lucky 15 Tips for today and tomorrow, publish them as soon as our horse racing professional tipsters have done their homework. Copy our Lucky 15 bets every day, bash the bookies with us!
Top 3 Betting Sites To Bet Our Lucky 15 Tips
Our Lucky 15 Tips for Today (or Tomorrow)
We provide the best Lucky 15 tips for your horse racing needs, each and every day 7 days a week. We like to play it as an each-way Lucky 15, but it's up to you...
Today's tips provide a balance between the safety of single bets and the huge profits of an accumulator across four winning horses. If you are looking for a multiple bet that guarantees a return from one winner but still offers the prospect of a big win, look no further than the Lucky 15.

Looking for all today's horse racing tips including NAP of the Day, Double of the Day, Treble of the Day and predictions on evey single race of all today's meets? We got you covered!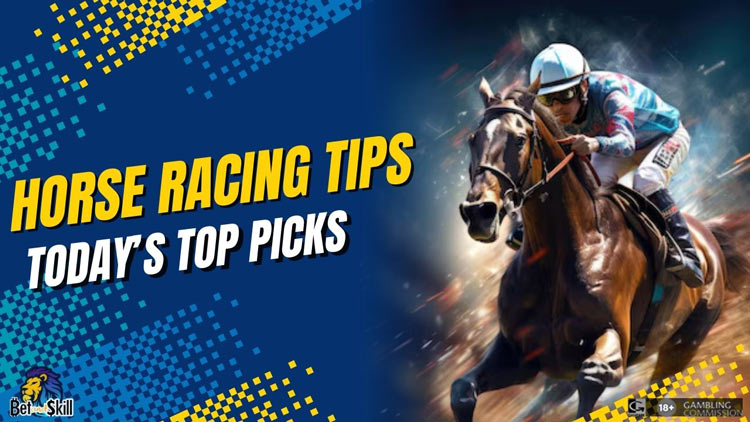 What is a Lucky 15 bet?
A lucky 15 is a four-selections horse racing bet (or whatever sport) that contains a total of fifteen outcomes merely by selecting four horses to win. These outcomes include 4 singles, 6 doubles, 4 trebles and a four-fold accumulator.
Any winning bets are calculated from the following;
4 outright singles on horses 1, 2, 3 and 4
6 doubles on horses 1&2, 1&3, 1&4, 2&3, 2&4, 3&4
4 trebles on horses 1,2&3, 1,2&4, 1,3&4, 2,3&4
1 four-fold (accumulator) on horses 1,2,3&4
Total 15 bets or 15 x your unit stake.
Because of the accumulative nature of the Lucky 15 bet, get 3 or 4 selections right, and your returns start to look very tasty (which is what makes the Lucky 15 such fun).
Wanna know all the details about this bet? Read our Lucky 15 guide here for more information.
How much does a Lucky 15 cost?
Since a Lucky 15 is made up of 15 bets (four singles, six doubles, four trebles and a 4-fold), it costs 15 times your unit stake. For example, a £1 win Lucky 15 costs £1 x 15, which equals £15.
A £5 Lucky 15 costs £5 x 15= £75, a £10 Lucky 15 costs £150, and so on..
Each Way Lucky 15 bets
Horse racing fans also like the option to bet each-way, particularly if they are placing their bets on the big festival meetings like Royal Ascot, Cheltenham Festival or Aintree Festival. Of course, you can place an EW Lucky 15 bet as it is essentially the same, but with double the bets.
An Each Way Lucky 15 includes a total of 30 bets and the total stake for an each-way Lucky 15 is double that of a standard Lucky 15.
A £1 each way Lucky 15 costs £30, a £5 each way Lucky 15 costs £150, etc..
The place part of the bet is calculated in accordance with usual rules. One-fifth of the odds for first, second and third in non-handicap races of 8 runners or more. You will be paid out one-quarter of the odds in handicaps of eight or more runners. Bookies pay the fourth place in handicaps of sixteen or more runners.
How do we select our Lucky 15?
As with all our sport predictions, we have a team of betting experts and professional punters who are constantly working to try and deliver the best horse racing tips. Our Lucky 15 predictions are made using form, as well as value when it comes to the race a horse is running in. We also utilise a number of statistical tools which combined with note taking and tracking horses.
Each tipster individually goes through all the racecards, analyse every race and select a handful of horse racing tips. Our experts then combine all these picks together and use the accumulated information to select our recommended horses for the Lucky 15 of the day.
How to bet a Lucky 15?
To back a Lucky 15 on an online betting site, you simply choose four horses and then select the Lucky 15 option under the multiples on your betslip.
Hence, you have two important choices to make.
As to the the betting site, we recommend to check our best horse racing betting sites guide and select your favourite one.
As to the horses, we strongly recommend to follow our tipsters on this very page. We have a proven record of profits since 2007.
Please consider that a Lucky 15 isn't just for horse racing but represents a really flexible bet option.
You can play a Lucky 15 on many different sports - a football Lucky 15, a tennis Lucky 15, etc.
You can also mix and match and place any combination of sports in your bets such as two horses, one football team and one tennis player.
How To Place a Lucky 15 in Betting Shops
Don't forget you can put on a Lucky 15 at a high street bookie. Most betting shops - such as William Hill, Paddy Power and Ladbrokes - have a dedicated slip for Lucky 15 bets.
You can simply write your selections (or just copy our Lucky 15 horse racing tips), race times and meetings on this slip. Then fill in the unit stake and total stake boxes and hand the Lucky 15 betslip to a cashier.
Betting shops often offer best odds guaranteed (BOG) on Lucky 15 bets. If the bookie doesn't provide any Best Odds Guaranteed promotion, you can place your bet at the current odds if they are available. Otherwise, your bets will be settled at SP (starting price).
How does a Lucky 15 payout?
Of course, the more winners you get (or winners/placed if you play an each wat Lucky 15), the more winnings you collect.
1 winner returns a winning single
2 winners return 2 winning singles and 1 winning double
3 winners return 3 winning singles, 3 winning doubles and a winning treble
4 winners return 4 winning singles, 6 winning doubles, 4 winning trebles and 1 winning four-fold
Eg.
We play a £1 Lucky 15 bet. Three out of four horses win their race. Their odds are 2/1, 3/1 and 5/1. This is what you collect:
3 singles: 2/1, 3/1 and 5/1
3 doubles: 2/1 x 3/1, 2/1 x 5/1, 3/1 x 5/1
1 treble: 2/1 x 3/1 x 5/1
The Lucky 15 returns £139, a net profit of £124 (£139 - £15).
Lucky 15 Bonuses & Promos
Not only do we regularly come up with free Lucky 15 horse racing tips to consider joining in with, but we also provide an extensive number of bookmakers offers to make betting on today's Lucky 15 racing tips even more worthwhile.
The best betting sites may give you a 10% or 20% bonus on winning Lucky 15 bets, depending on their terms and conditions.
Betfred, for example, are offering a tasty promotion on Lucky bets..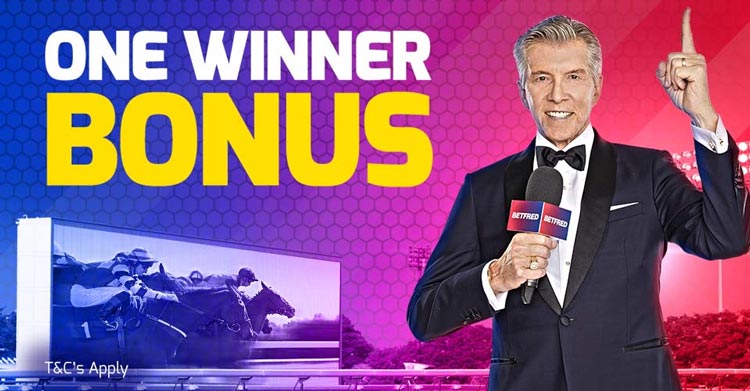 Place a Lucky 15, Lucky 31 or Lucky 63 on Horse Racing or Greyhounds.
If all your selections run and only one of your selections win, get 3, 4 or 5 times the odds of your bet as cash.
If your Lucky 15, Lucky 31 or Lucky 63 settles with only one winner, get 3, 4 or 5 times the odds of your winning selection.
5 x the Odds for One Winner on Lucky 63s
4 x the Odds for One Winner on Lucky 31s
3 x the Odds for One Winner on Lucky 15s
If you don't yet have a Betfred account, the best you will achieve on the Lucky 15, Lucky 31 or Lucky 63 Bonus is 2x the odds. The industry standard on the "all correct" bonus is 10% on all four winners in a Lucky 15, 20% a Lucky 31 and 25% a Lucky 63. One of the major bookmakers deviates from these figures, the Bet365 Lucky 15 bonus is 15%.
Other bookies rewarding punter playing lucky 15 are:
Boylesports – Double odds for 1 winner – 10% added for 4 winners
William Hill – Double odds for 1 winner – 10% added for 4 winners
Ladbrokes – Double odds for 1 winner – 10% added for 4 winners
SportingIndex - If your Lucky 15, Lucky 31 or Lucky 63 settles with only one winner, get double the odds of your winning selection.
With a Lucky 15 Bonus, you're always bound to make some money. On an unlucky day you'll get a price boost on your sole winner, but if you are on a very lucky day and you pick 4 winning horses you'll get even higher returns. If you end up somewhere in the middle, you'll have a god chance of making a profit either way!
Not all bookmakers offer bonuses on Lucky bets, but we feature all the offers on our free bets page, so you're able to look through and pick out the best option for backing today's horse racing tips.
Which Is The Best Bookmaker For Lucky 15 Bets?
Betfred offer the best bonuses for Lucky 15 bets and for many punters that is the most important factor.
Odds are very important as well. So first of all shop around for the highest odds and you will see how they can dramatically increase the potential payout.
Bet365 and William Hill usually have excellent odds across all sports according to our researches, so you may generally find that you can earn more money by playing your Lucky 15 bets with them.
What happens if a selections is voided?
Because there are so many different bets involved in a Lucky 15, there's always a chance that one of your selections may not run (or play). This is known as a "void line". If a void line occurs in your Lucky 15, the bookmaker will usually issue a full refund and you'll have to reconstruct your bet.
Should one or more of your selections be void in your Lucky 31 or Lucky 63 bets, then there are two possibilities depending on the bookmaker.
Some bookies will void the entire bet and refund all of your lines. More commonly your bet will be partly refunded and you will drop down to the next tier.
Eg. if you have placed a Lucky 31 with 5 selections and one is void you will tier down to a Lucky 15 with 16/31 of your betting line stakes refunded.
What is the difference between a Lucky 15 and a Yankee bet?
The difference between a Lucky 15 and a Yankee is that a Yankee bet covers six doubles, four trebles and one four-fold, but doesn't include the four single bets that a Lucky 15 would have. Hence, the Yankee consists of 11 bets instead of 15. We recommend to play a Yankee if the four selections have relatively short odds because the potential profits made through the single bets may not be substantial.
Eg. If you have a £1 Lucky 15 on 4 selections that are all 4/5 and also have a £1 yankee on those same 4 selections, you will actually lose more by placing a Lucky 15, even though that Lucky 15 gives you a payout:
£1 Yankee - Cost £11 - Return £0 - Total loss £11
£1 Lucky 15 - Cost £15 - Return £1.80 - Total loss £13.20
Why Lucky 15s are so popular?
Most punters choose to bet on a specific horse racing market for the opportunity to potentially scoop significantly higher returns and the same goes with the Lucky 15 market.
Betting on Lucky 15s also provide the one method of betting that entertains a higher likelihood of winning something, even if you can't scoop all of your winnings.
They eliminate that gut wrenching feeling of being one leg away from landing a full-house. Two winners or more will provide a healthy return.
History of Lucky Bets
The Lucky 15, as well as the Lucky 31 and Lucky 63, were created by Mr Betfred himself – Fred Done. Always looking for ways to enhance his customers' betting experience, Fred thought up an idea that would allow punters to cover all possible betting lines from a number of selections of their choice.
Originally designed by Betfred to improve the horse racing experience for players, these bets have evolved over time, and can now be placed on a variety of markets including football, rugby, snooker, boxing, cricket and so much more.
Betfred also accepts Lucky bets in their Virtual Sports section, where some of the most popular sports in the world are available throughout the day.
SHARE IT WITH YOUR FRIENDS
Let your friends know about this article! Share it on your favourite social media!