Paddy Power Beat The Drop: Free Entry £250,000 Game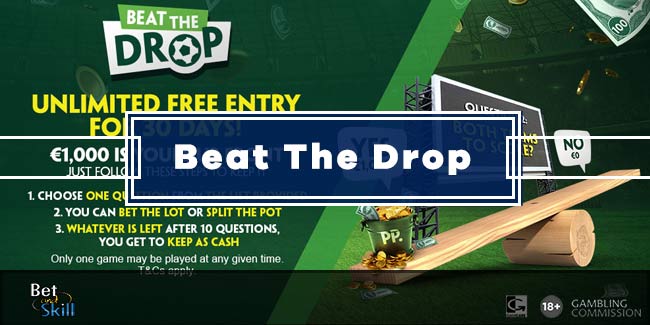 Firstly launched during the last World Cup, Beat The Drop is back at Paddy Power for the football season. Every customer will be credited with £250,000 to play. The challenge is to see that money through a number of rounds and whatever you end up with, you keep. Read here how to get a free entry every day, with no deposit required!!
WHAT IS BEAT THE DROP?
Beat The Drop is a free to play or pay to play game offered by Paddy Power.

The idea here is you start off with your pot of money and then work backwards by answering questions and choosing how much of your pot you risk on each answer. Once the outcome to the first question is known then you will get back the amount you bet on the answer.


YOU CAN PLAY BEAT THE DROP FOR FREE EVERY DAY!
Free to play. Each player eligible for one free £250,000 game Only one game may be played at any given time. Answer 20 questions and money left in the pot after all the questions are answered is yours to keep. T&Cs apply.
HOW TO BEAT THE DROP AT PADDY POWER
Paddy Power are giving all customers a free entry every day, with no deposit needed! All you have to do is answer twelve questions to keep the cash.
Simply login to Beat The Drop and you'll receive your €/£250,000 Pot.


Place your stake, choose your first fixture and market you wish to answer on.


Then split your pot or stake it all on your first question.


Get it right and move on to the next question.


Keep it up and everything you have once you've answered all your questions is yours to keep!
The maximum winnings from any single game is £250,000. Winnings are returned in cash.
If you are already in the middle of a Beat The Drop game, your 20-question £250,000 game will begin when you have finished your ongoing game. When you complete the 20 question, £250,000 free game (win or lose), you will be eligible to enter another 12 question, £1,000 free game the next day.
Beat The Drop Questions
Eg. Man City to keep a clean sheet vs Tottenham?
You can split the pot placing £200k on Man City to keep a clean sheet and £50 on them no to - depending on how confident you are in it.
If the Citizens keep a clean sheet you get £200k to use on the next question, if not you get £50k.


---
Follow us on our social media channels

Or share this article on your favourite social media

---
Paddy Power's Beat The Drop Free To Play
Everyone starts a winner with Beat The Drop game! You will get the winnings up front and your mission is to keep those winnings! This offer is only available the first time you play Beat the Drop. The free £/€250,000 game is limited to one free entry per customer. You can find here many other free jackpot games and no deposit free bets!

Alternatively, you can check out our Paddy Power promo code page to see all the offers and deals they have available for you.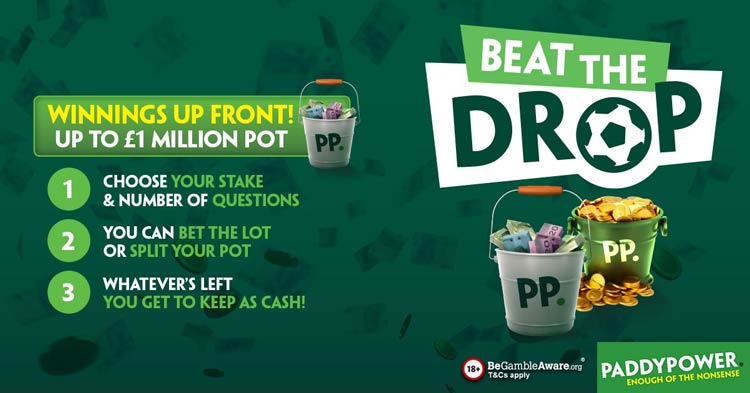 Once you have finished the free game you can now buy tickets to enter again and again if you wish.

At this point the game becomes more flexible, you can vary your ticket purchase amount up to a maximum of £50 and the number of questions you want to answer, this effects the top prize money. You can win up to £1 million!

Eg:
£2 ticket with 10 questions = £1,250 POT
£2 ticket with 20 questions – £760,000 POT
£50 ticket with 10 questions = £34,000 POT
£50 ticket with 16 Questions = £1,000,000 POT
Strategies to Beat The Drop at Paddy Power
You may think that putting half of the pot on each answer could be the winning strategy. Unfortunately, this strategy quickly falls apart after a few questions. For example, if you play a £1,000,000 game (which always has 20 questions), after splitting the pot 20 times you'll find yourself walking away with a meagre 95p! Similarly, if you play the free-to-play version, which has 12 questions and a £1,250 pot, you'll walk away with just 24p.

The only way to have an edge over the bookmakers is being good at predicting the outcomes of the matches. So check our predictions page (expecially the football predictions page) in order to increase your chances to beat the drop.
Beat The Drop Frequently Asked Questions
Where can I play Beat The Drop?
Only two betting sites are currently offering this game - Betfair and Paddy Power. As the two brand are now part of the same parent company, they both offer their own iteration of the beat the drop game.
How much does it cost to play Beat The Drop?
If it is your first game of the day, you can play for FREE. If it is not your first game, you can choose your stake (£2, £5, £10, £20, £50) and select the number of question you want to answer.
What can I win?
Of course, the more question you choose to answer, the bigger the pot. The top prize is £1 million. This will require you to enter for £50 and tackle the answers to 16 football outcomes. The lowest prize is £7 which you will receive when choosing to answer just two questions. Since the official launch, over 500,000 people have walked away with cash prizes in a game similar in style to the television quiz show The Million Pound Drop.
On occasion Paddy Power run special games, for example during Euro 2020 they offered customers one free game with a pot of £250,000 with 20 questions.
When will I get my prize?Cash will be credited automatically to your account upon finish of game.
Who can play the Beat The Drop game?
The promotion is available for new and existing customers with registered Paddy Power accounts, aged 18 or over. Prior to paying any Beat the Drop winnings to entrants, the bookmaker may require that such entrants submit certain documentation to, among other things, verify their identity.

What happens if a game is suspended or voided?
In the event where a question must be voided (eg. player not starting, human error in question, severe price movement), Paddy Power will void this question and all customers will be pushed out of that question and must then choose another question to progress with.
Things to note
Only one game can be played at a time
Maximum ticket price for each game: £50
Maximum winnings from any single game: £1,000,000
Winnings will be automatically credited to your account in cash
Tickets are valid for 60 days from your initial purchase
All The Free Prediction Games
As well as Skybet's Super 6 and Paddy Power's Beat The Drop, you'll also find a number of other prediction games with a growing number of online bookmakers.

Ladbrokes has their 1-2-FREE game, in which players are required to predict the correct score of three fixtures, while 888sport have Up For 8 which players have to predict the outcome of 8 football matches for a chance to win £8,000!
SHARE IT WITH YOUR FRIENDS
Let your friends know about this article! Share it on your favourite social media!