Grand National 2021 Runners - Full List Of Horses & Riders
It's nearly time for the Grand National 2021, and it's high time you started to familiarise yourself with the names involved in this year's race. Find here a full list of Grand National runners and riders for horse racing's greatest steeplechase.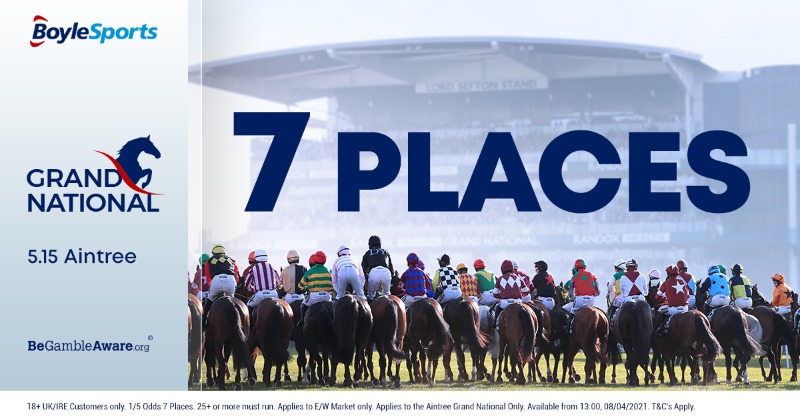 Grand National 2021 Runners - The Final list
The Grand National is UK's annual horse race that stops the nation. This year's edition will be an extra special running of the greatest steeplechase in the world after last year's race was cancelled because of the coronavirus pandemic.
The 2021 Grand National will be held at Aintree Racecourse on Saturday, April 10th at 5.15pm. Sponsored by Randox Health, it is a UK handicap steeplechase over 4 miles 514 yards with horses jumping 30 fences over two laps.
The £1 million showpiece is again set to feature a maximum field of 40 after 68 entries stood their ground at Monday's declaration stage.
Top Betting Sites to Bet on the Grand National
Which horses are running in the 2021 Grand National?
The final field for this year's Grand National at Aintree this Saturday took greater shape on Monday when 68 entries stood their ground at the five-day stage.
Below you'll find the official list of Grand National Runners leading up to Aintree 2021.
If you're new to horse racing betting, find our helpful Grand National betting guide and our Grand National expert picks before you start.
(Racecard number, horse, trainer, jockey, recent form, age, weight carried ie 11st 10lb is top weight. Form: F - Fell, P- Pulled up, U -Unseated rider.)

1 Bristol De MaiTrainer: Nigel Twiston-Davies
Jockey: Daryl Jacob
Odds: 28-1

2 Chris's DreamTrainer: Henry de Bromhead
Jockey: Darragh O'Keeffe
Odds: 50-1

3 Yala EnkiTrainer: Paul Nicholls
Jockey: Bryony Frost
Odds: 50-1

4 BallyopticTrainer: Nigel Twiston-Davies
Jockey: Sam Twiston-Davies
Odds: 80-1

5 Definitly RedTrainer: Brian Ellison
Jockey: Henry Brooke
Odds: 40-1

6 Lake View LadTrainer: Nick Alexander
Jockey: Brian Hughes
Odds: 50-1

Runner-by-runner guide: Betting tips & Predictions for the National




7 Burrows SaintTrainer: Willie Mullins
Jockey: Patrick Mullins
Odds: 9-1

8 Magic Of LightTrainer: Jessica Harrington
Jockey: Robbie Power
Odds: 16-1

9 Acapella BourgeoisTrainer: Willie Mullins
Jockey: Danny Mullins
Odds: 25-1

10 TalkischeapTrainer: Alan King
Jockey: Tom Cannon
Odds: 50-1

11 Tout Est PermisTrainer: Noel Meade
Jockey: Sean Flanagan
Odds: 100-1

12 Anibale FlyTrainer: Tony Martin
Jockey: Denis O'Regan
Odds: 28-1

13 Mister MalarkyTrainer: Colin Tizzard
Jockey: Jonjo O'Neill Jr
Odds: 16-1

14 Kimberlite CandyTrainer: Tom Lacey
Jockey: Richie McLernon
Odds: 16-1

15 Any Second NowTrainer: Ted Walsh
Jockey: Mark Walsh
Odds: 10-1

16 Balko Des FlosTrainer: Henry de Bromhead
Jockey: Aidan Coleman
Odds: 100-1

17 Alpha Des ObeauxTrainer: Denise Foster
Jockey: Jody McGarvey
Odds: 66-1

18 Ok CorralTrainer: Nicky Henderson
Jockey: Derek O'Connor
Odds: 80-1

19 TakingrisksTrainer: Nicky Richards
Jockey: Sean Quinlan
Odds: 14-1

20 Shattered LoveTrainer: Denise Foster
Jockey: Kevin Sexton
Odds: 50-1

21 JettTrainer: Jessica Harrington
Jockey: Sam Waley-Cohen
Odds: 80-1

22 Lord Du MesnilTrainer: Richard Hobson
Jockey: Nick Scholfield
Odds: 50-1

Click here for exclusive Grand National free bet offers and must-have daily promotions

23 Potters CornerTrainer: Christian Williams
Jockey: Jack Tudor
Odds: 22-1

24 Class ContiTrainer: Willie Mullins
Jockey: Brian Hayes
Odds: 40-1

25 Milan NativeTrainer: Denise Foster
Jockey: Jamie Codd
Odds: 40-1

26 DiscoramaTrainer: Paul Nolan
Jockey: Bryan Cooper
Odds: 20-1

27 Vieux Lion RougeTrainer: David Pipe
Jockey: Conor O'Farrell
Odds: 66-1

28 Cloth CapTrainer: Jonjo O'Neill
Jockey: Tom Scudamore
Odds: 11-2 favourite

29 Cabaret QueenTrainer: Willie Mullins
Jockey: Sean O'Keeffe
Odds: 80-1

30 MinellacelebrationTrainer: Katy Price
Jockey: Ben Poste
Odds: 100-1

31 CaneloTrainer: Alan King
Jockey: Tom Bellamy
Odds: 66-1

32 The Long MileTrainer: Philip Dempsey
Jockey: Luke Dempsey
Odds: 66-1

33 Give Me A CopperTrainer: Paul Nicholls
Jockey: Harry Cobden
Odds: 40-1

34 FarclasTrainer: Denise Foster
Jockey: Jack Kennedy
Odds: 20-1

35 Minella TimesTrainer: Henry de Bromhead
Jockey: Rachael Blackmore
Odds: 9-1

36 Sub LieutenantTrainer: Georgie Howell
Jockey: Tabitha Worsley
Odds: 50-1

37 Hogan's HeightTrainer: Jamie Snowden
Jockey: Gavin Sheehan
Odds: 100-1

38 Double ShuffleTrainer: Tom George
Jockey: Jonathan Burke
Odds: 80-1

39 Ami DesboisTrainer: Graeme McPherson
Jockey: Kielan Woods
Odds: 100-1

40 BlaklionTrainer: Dan Skelton
Jockey: Harry Skelton
Odds: 50-1
Who are the Grand National favorites?
Cloth Cap is the ante-post favourite. The Jonjo O'Neill-trained nine-year-old is unbeaten on his last two starts – November's Grade 3 Trophy Chase win at Newbury and the Premier Chase at Kelso in March.

There will be no previous Grand National winners in the line-up, but Vieux Lion Rouge, Blaklion and Hogan's Height do boast a victory over the big fences and many others in the line-up have run well over them.

Furthermore, many horses have won at the Cheltenham Festival - Balko Des Flos, Shattered Love, Milan Native, Farclas and Blaklion.

Other notable long-distance winners in the field include Takingrisks (Scottish National), Potters Corner (Welsh National), Secret Reprieve (Welsh National), Cloth Cap (Ladbrokes Trophy), Bristol De Mai (three-time Betfair Chase winner), Burrows Saint (Irish Grand National) and Talkischeap (bet365 Gold Cup).

Double winner Tiger Roll will miss this year's renewal - he will run in the AIntree Bowl - due to unfair weight.
What are the Grand National Reserves?
A maximum field of 40 horses will be allowed to run, with the final declarations revealed at 10am on Thursday. The remaining 28 - the lowest rated horses - will be balloted out 48 hours before the contest.

The four reserves are:

41 Some Neck (Simon Torrens)
42 Secret Reprieve (James Bowen)
43 Kauto Riko
44 Fagan (Harry Bannister)
What is the final list of Grand National runners?
The initial entry date is at the end of January and then there are further stages through to the race day when runners need to be confirmed at declaration stages which are sometimes called forfeit stages. At each stage a runners connections may need to pay a further entry fee to confirm their runner.
The last declaration stage takes place at 10am on the Thursday before the race at which point the top 40 runners in the weights are left in along with four reserves.
Entries closes January 29
Entries revealed January 30 (112 entries)
Weights revealed February 12
First scratchings deadline February 26
Second scratchings deadline March 19
Five-day confirmations April 5
Final declarations 10am April 8.
GRAND NATIONAL NON RUNNER NO BET
Non Runner No Bet is relatively simple concept to understand and well worth taking on any ante-post bet should it be offered. The offer allows you to place a bet on a horse in the build up to the race and if it doesn't make the starting gates, you'll receive your stake money back.
What this does is essentially void your bet if your horse doesn't run, meaning you don't lose any money for no real reason.
Find here all the bookmakers offering Non Runner No Bet on the Grand National.
GRAND NATIONAL BETTING TIPS & FREE BETS
Are you looking for all the 2021 Aintree Festival predictions? Visit our Aintree betting tips section here!
Don't miss our exclusive Grand National free bets and betting promotions? Click below...
How To Bet On The Grand National
Betting on the Grand National is many people's only wager of the year so can prove confusing for many who look to navigate through online bookmakers.
But it really doesn't need to be a hardship and betting on horse racing can be incredibly simple, particularly the Grand National.
The entire process of placing a bet on the Grand National can be done in just a few clicks. Learn here how to bet a horse on the Grand National!
SHARE IT WITH YOUR FRIENDS
Let your friends know about this article! Share it on your favourite social media!