Coral Slots Tournament: How To Play & Win Free Spins & Cash Prizes
Coral free-to-play Slots Tournaments are live and you can win Cash Rewards, Casino Bonuses or up to 100 Free Spins! Simply collect points and set your place on the leaderboard. Wanna know how to play free slots tournaments at Coral Casino? Read this guide!
How To Play Free Slots Tournament at Coral Casino
Wanna know how to participate in this promotion for free?
Playing slots tournaments
at Coral Casino is easy like 1-2-3... Just follow this simple steps below..
1. REGISTER
Open a new account for free or log-in your existing account (you will also recieve a £50 casino bonus as soon as you deposit £10)
2. OPT IN
Access the Tournaments Lobby and Opt in to take part in each Tournament
3. SPIN FOR FREE
Launch the Tournament Game and play your Tournament Spins or Chips
4. COLLECT POINTS
Score points with every single tournament spin. Get on the leaderboard and you could win a reward!
You can win a Casino Bonus up to £50, Cash Rewards up to £50, or up to 100 Free Spins. Casino Bonuses awarded and Cash rewards awarded have no wagering requirements. You can keep what you win!


18+. Daily. Opt in req. Selected games only. 1 entry max per player per tournament. Rewards of up to £50 cash, up to £50 casino bonus (1x wag, valid 48hrs) or up to 100 Free Spins (value £0.10/£0.20, valid 48hrs). Player restrictions and T&Cs apply.
How Coral Tournament Slots Work
Once the Slots Tournament is available, simply click 'Play Here' to be taken into the free play mode for the tournament.
All players that enter a Slot Tournament will all have an equal amount of Tournament Spins (30), of equal value, to use on a selected game during each slot tournament.
You can use these Tournament Spins to earn points based on the result of that spin.
You will score points every time you have a winning tournament spin. Your leaderboard position will be determined by the points you collect during each Slot Tournament.
Players will receive a reward based on their final ranking. Rewards will be credited to Eligible Players' Website accounts automatically within 1 hour of the Slot Tournament ending.
Credited reward includes cash prizes, casino bonuses, and free spins.
How to Collect Points during Tournaments
There are several different ways of earning points when playing the slot tournaments at Coral.
You will earn points for the multiplier of your winnings as well as for three consecutive tournament spins with no wins or a tournament spin which results in a win.
Please note: Each spin will have a non-monetary value of £1.00, any winnings shown also have a non-monetary value.
The table below shows the points you earn on different outcomes of the tournament spin:
| | |
| --- | --- |
| Outcome | Points |
| Three consecutive tournament spins which result in a loss | 1 |
| Tournament spin which results in a win | 3 |
| Tournament spin which results in a win 5x the bet unit | 10 |
| Tournament spin which results in a win 10x the bet unit | 25 |
| Tournament spin which results in a win 25x the bet unit | 70 |
| Tournament spin which results in a win 50x the bet unit | 150 |
| Tournament spin which results in a win 100x the bet unit | 300 |
| Tournament spin which results in a win 250x the bet unit | 1000 |
For each 'multiplier win' players will receive points for the multiplier win and will also receive an additional 3 points as the Tournament Spin resulted in a win. For example, if a Player lands a win of 100x, the eligible player will be awarded with 300 points for the multiplier win + 3 points for the win – a total of 303 points.
When Can I Play Slot Tournaments at Coral Casino?
There are three free-to-play tournaments every day. These tournaments will run from 14:00 to 16:00, 16:00 to 19:00 and 19:00 to 00:00.
The opt in period for each Slot Tournament will open as soon as the tournament is visible to players on the schedule and close 10 minutes before end of the Tournament Duration.
Can I get a bonus at Coral Casino?
Coral online casino offers UK players an easy bonus that definitely makes this casino site worth your time. Get £50 in bonus money when you deposit and bet £10! That's 5x your initial deposit, which is a super deal!

What is Beat The Banker?
Coral Beat The Banker is another Slot Tournament giving players more chances to win than before. It actually gives a guaranteed prize to all entrants.
The Beat the Banker Slot Tournament goes live at 19:00 on Monday, Wednesday and Friday's on selected games.
These Slots Tournaments will last for 5 hours.
Players that are still in-game (real or free mode) will receive a pop-up at the end of the Slot Tournament Duration confirming their finishing position on the leaderboard.
When the slot tournament finishes, players will receive an inbox message giving full details and the value of their reward.
Beat the Banker will reward a minimum of 5 Free Spins to be used on the Big Banker slot only. Value of the free spins are set to a minimum of 10p per spin.
Winnings from Free Spins will be credited as cash. There are no wagering requirements to the winnings.


What is the Rewards Grabber?
Coral Rewards Grabber is a completely free-to-play game that let you win cash, free spins, casino bonuses, free bets and scratchcards. It is available to both new players and existing customers.
Very similar to other free games such as The Bonus Drop at William Hill Vegas and Instant Spins at Ladbrokes, the Rewards Grabber promises to give every player a prize every day.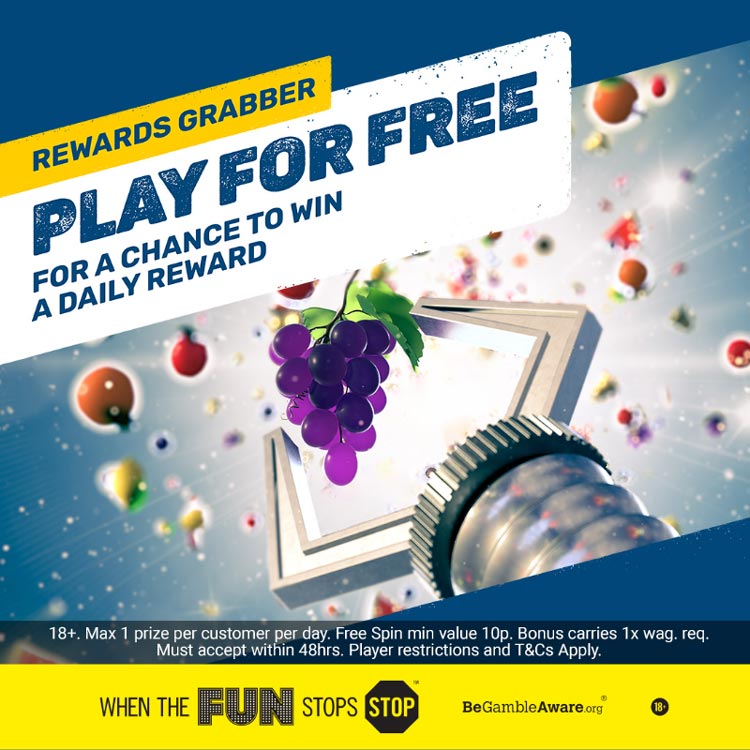 Frequently Asked Questions
Why is my real balance not showing?
The balance shown in the Slots Tournament does not reflect your actual balance. When you play slot tournaments, any funds in your balance will not be affected, and you can view your actual balance at any time by returning to home - or clicking 'Play for real' in the top left which will take you to the game's real play mode.
What happens if I am offline when the tournament ends?
Player is not in-game when the Slot Tournament is over need to return to the Slots Tournaments Lobby 'See Your Results' to confirm their leaderboard ranking.
Can I take part in the Coral Slots Tournament using my smartphone?
Yes, if you have a website account you can participate in the Coral Slots Tournament using your mobile device (smartphones, tablets, etc..) as well as your desktop or laptop PC.
How can I check my rank on the leaderboard?
Every time you have a tournament spin which results in a win or three consecutive losing spins within the tournament duration, you will earn points and the slots tournament leaderboard will be updated accordingly.
The rankings are only finalised at the end of the Slot Tournament once the Tournament Duration has completed.
Don't forger there is a an info page for every tournament giving full details about it. You can also contact Coral online and shop support every time you need it.
What happens in case of disconnection?
If you are able to resume play by re-entering from the Slots Tournaments lobby, you can continue to use your remaining Tournament Spins, as long as the Slots Tournament Duration has not ended.
SHARE IT WITH YOUR FRIENDS
Let your friends know about this article! Share it on your favourite social media!