Colossus Syndicates Betting Guide - How to join, create and play!
Colossus Syndicates are a new product enabling players to propose a ticket into Colossus jackpots to be crowdfunded. Bettors can bet smaller stakes and winner bigger prizes. Find here a complete guide on Colossus Syndicates - how to create a syndicate, how to join a syndicate and where to play Colossus Syndicates bets!


WHAT IS A COLOSSUS SYNDICATE

Once players have created a Colossus syndicate profile, they can find and join a Syndicate through either the search bar or the join now button within the syndicate tab. Players can choose to be a Syndicate Captain and make the selections or defer to the expertise of another manager.

Join an existing syndicate or use your unique Syndicate reference code to invite others to crowdfund your ticket!


HOW TO CREATE A SYNDICATE

Register a Colossus account and go to Syndicates
Select Syndicates
Select CREATE
Select the pool you want to create a syndicate in.
Make your selections on the grid.
Select how the cost per line (£2, £1, £0.50, £0.20)

Now you need to name your syndicate and choose contribution
Select a name for your Syndicate as you want it to appear on the leader board
Enter how much you want to contribute from 10% up to 50%.
Select 'publicly list my Syndicate ticket' so it will appear on the board for others to invest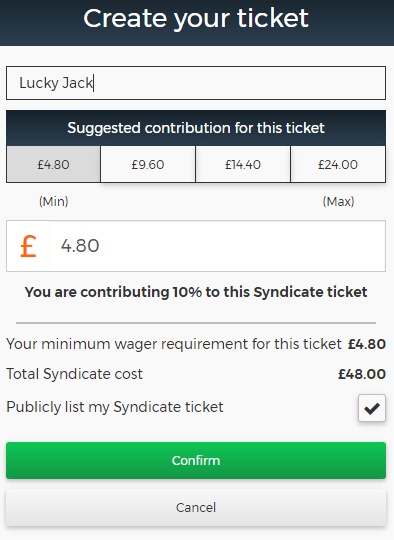 Finally, you can share your syndicate
To promote your syndicate on twitter, use CLICK TO SHARE
By letting others know, it helps the syndicate fill
When you hit CLICK TO SHARE, you simply hit the twitter icon.
This will bring up a window with a message you can review or customize.
Then hit TWEET.
HOW TO JOIN A SYNDICATE
Select All Syndicates or Starting Soon
Select the Syndicate from the listing which you want to join
Once you found one you like, decide how much you want to invest.
You can invest as little £0.20.
Enter your stake and then confirm your contribution by pressing Confirm.
You can let others know about the Syndicate that you have joined by sharing your contribution on Twitter or WhatsApp.
WHERE TO PLAY COLOSSUS SYNDICATES
The following are the bookmakers where you can play Colossus Syndicates



Open a new Betfair account here and go to Pools!



Open a new Boylesports account here and go to Pools!


SHARE IT WITH YOUR FRIENDS
Let your friends know about this article! Share it on your favourite social media!