Gonzo's Treasure Hunt Game Show: How To Play & Strategies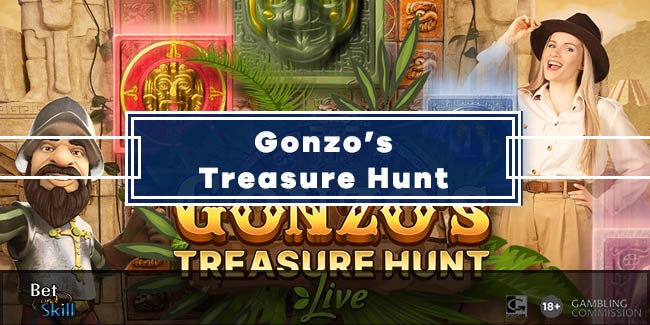 Following on from the massive success of
Crazy Time
and the recent acquisition of NetEnt, Evolution Gaming has launched
Gonzo's Tresure Hunt Live
. How does it work? Where to sign-up and play with real money? What is the RTP? How much can you win?
Best Casinos Where To Play Gonzo's Treasure Hunt
What is Gonzo's Treasure Hunt Live?
Gonzo's Treasure Hunt Live represents the first Evolution's collaboration with Netent. It's a winning combination of an old player favourite and a live game show with a tantalizing win potential of up to €/£1 million.
The first thing you'll notice is the stunning computer-generated background. It looks like an ancient temple straight out of an Indiana Jones movie. A virtual Gonzo and studio host dressed in explorer gear team up to explain, excite and entertain during the show.
The mix of virtual reality and live show host together with the treasure-hunt-style gameplay will attract existing and soon-to-be Gonzo fans as well as live casino enthusiasts.

This live casino game definetely brings entertainment to new heights – a one-of-a-kind personalized treasure hunt with the chance to win massively multiplied prizes!

Plus, if you've played Gonzo's Quest slot, you'll find this new live dealer game refreshingly familiar!


How to play Gonzo's Treasure Hunt
A wall of stones containing 70 squares will be presented to you and each stone will contain a multiplier between x1 and x65. The squares will be uncovered at the end of the game round and your objective will be to find the multiplier you have bet on beforehand.
Select stones and picks on the wall
Bet on up to six coloured stone blocks with a different value attached, from 1x, 2x, 4x, 8x, 20x, all the way up to 65x. These will be the stones you will try to find on the wall. It is possible to bet on a single symbol but also on several stones simultaneously.
Choose up to twenty picks on the Treasure Wall that you think will reveal one of the multipliers you have bet on.
Brown Stone: multiplier x1, is present 27 times on the wall;
Orange Stone: multiplier x2, is present 20 times on the wall;
Purple Stone: multiplier x4, occurs 12 times on the wall;
Green Stone: multiplier x8, occurs 7 times on the wall;

Blue Stone

: multiplier x20, occurs 3 times on the wall;
Red Stone: multiplier x65, appears 1 times on the wall.
Of course, the bigger the payout, the lower your chance of winning. This part is largely similar to other Evolution specialty live casino games. Specifically, Live Dream Catcher immediately.


The total bet you'll place is the number of picks multiplied by the total value of the stones. When that is settled, all 70 stones are shuffled and hidden. The countdown timer starts, and the Treasure Hunt begins!
Each player, therefore, goes on a different treasure hunt, based on their unique choices.
The Prize Drop
Then comes the Prize Drop feature. Gonzo turns the key to start the Prize Drop, during which prizes drop and increase the values of some of the stones. Bonus Prizes will appear at the top of the wall and drop down, stopping at random stones to reveal extra special rewards. Between 0 and 7 bonuses are activated each round.
There are three types of bonuses during the Prize Drop:
Bonus Prizes: add to the value of the hidden stones between 3 and 100
Multipliers: a multiplier will multiply all visible bonus values by the amount shown. They vary from 2x to 10x.
Re-Drop: the Re-Drop symbol triggers a new Prize Drop. As a result, one stone on the wall can receive several bonus prizes and multipliers. Re-Drops can occur up to 10 times.
All these multipliers and prize drops can create some lucrative stones with the largest possible payout set at 20000x.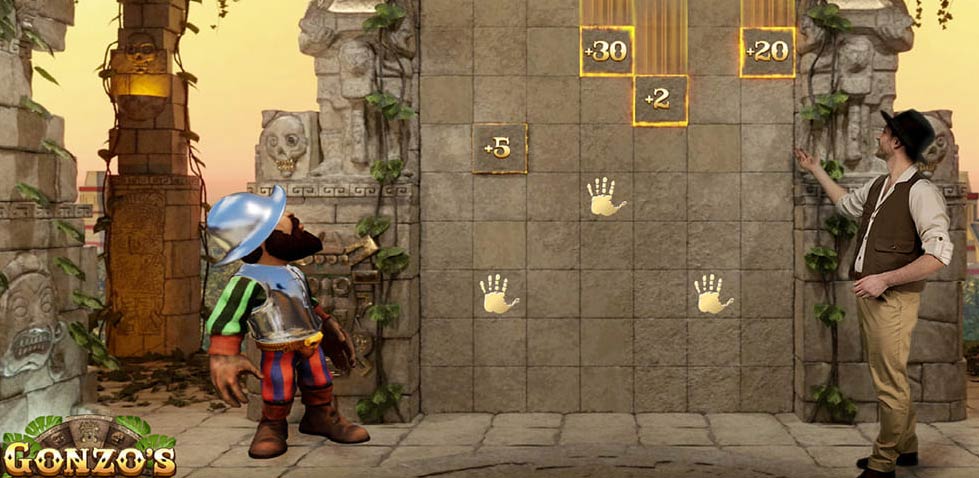 The Big Reveal
Each stone on the wall with its price is revealed and matched to the bets you made at the beginning. Stones that you have bet on and have correctly identified on the wall are highlighted, revealing the prize value that will be applied to your bet. Winning picks are highlighted gold while failed ones change to cracked stones.
Of course, your winnings will be potentially increased by upgrades made by Gonzo!
Finally, all successful bets are added together including the stake amount and your total prize amount is displayed in the middle of the screen.
After all Prize Drop bonuses are played out and all payouts are awarded, the round starts again. At the end of each round, a list of winners scrolls past the bottom left corner of the screen.


Virtual Reality
Instead of the plush physical studios, the software developer went with computer-generated graphics and Augmented Reality to craft a unique gaming environment.
Gonzo's Treasure Hunt Live is the
first game by Evolution to use Virtual Reality technology
. If you have a VR headset you'll be able to play in VR Mode, giving you a 360-degree view of the game. The game phases are the same as in regular gameplay.
Frequently Asked Questions
What is the best strategy to win on Gonzo's Treasure Hunt Live?
Just like every other casino game, the house has a little edge over players. Anyway, we have found several strategies that could work. We suggest you to choose the one that best suits your stile of play.
Low Risk / Low Reward strategy
: This strategy relies on picking the most frequent stones and select lots of stones on the wall. This way you will have more winning rounds but a low winning amount, so you will be profitful if you hit bonus prizes, multipliers and re-drops.
Example Bet: Bet £0.50 on the Orange Stone (2:1), multiplied for 20 picks. The total bet is £10.
Medium Risk / Medium Reward strategy:
This strategy relies on picking the two most frequent stones and select 20 stones on the wall. This way you will cover the wall with 45 winning tiles (with a 1x or 2x multiplier).
Eg. Place a £0.50 Bet on the Brown (1:1) and Orange (2:1) stone and select 20 picks. The total bet will be £20.
You will have a profit if you are lucky enough to have more orange winning tiles than brown and hit a couple of bonuses per round.
High Risk / High Reward strategy
: This strategy relies on picking the stones with the highest multpliers - the Blue (20:1) and the Red (65:1) ones - and at least 10 stones on the wall. Your winning frequency rate will be much lower, but eventual winning will be huge, expecially if you hit any re-drop, bonus or multiplier.
Eg. Place a £50 bet on the Blue and the Red stone and select 10 picks. The total bet will be £10.
How much does it cost to play Gonzo's Treasure Hunt Live?
Gonzo's Treasure Hunt stakes work by multiplying your Picks by wagers you put on stones. For instance, if you have £1 placed on one stone, £2 on another, and 5 picks, your total stake would be (1+2)*5= £15.
How to calculate winnings?
In order to calculate the total win, you just need to multiply the winning stones and their final value, plus your original bet.
Eg
. You bet on a 8x treasure stone with a bonus value of 10 and an x3 multiplier from the prize drop event. Your total win will be 8 + 10 x 3 = 54x your stake, plus your returned bet.
Don't forget that each stone has its multiplier and number of occurrences on the wall.
Stone
Number of
Stones
Pays
Chance of
Getting
Brown
27
1:1
38.5%
Orange
20
2:1
28.5%
Purple
12
4:1
17%
Green
7
8:1
10%
Blue
3
20:1
4.28%
Red
1
65:1
1.42%
What is the RTP?
The theoretical RTP of Gonzo's Treasure Hunt Live is 96.56%. hence, it has a higher RTP than Gonzo's Quest Megaways slot title (under the Red Tiger brand), which is 95.77%
How much can I win?
The maximum payout on a single stone is 20,000x. The maximum winning in a single round is capped at £1,000,000.
Is Gonzo's Treasure Hunt an online video slot?
No, this is a live casino game show based on the popular slot Gonzo's Quest.
Is Gonzo's Treasure Hunt really in real-time?
Like every other Evolution Gaming's game shows, Gonzo's Treasure Hunt will be broadcast 24 hours a day from their dedicated gaming studios in Latvia. Anyway, an RNG engine (Random Number Generator) is used to determine the results of each round. Hence, this is a hybrid of RNG and Live with more being RNG than Live.
Can I play Gonzo's Treasure Hunt Live For Free?
There is no widely available demo mode for Gonzo's Treasure Hunt Live, so you will not be able to play for Free. Anyway, we have exclusive deals with many online casino to offer our readers free casino bonuses on every casino game, including live casino and game shows (Eg. the Ladbrokes Casino no deposit bonus).
What other game shows can I play that are similar to Gonzo's Treasure Hunt Live?
Evolution Gaming has been at the forefront of live studio gaming since its birth in 2006. Monopoly Live - is Evolution's award-winning live casino game based on the Dream Catcher model, one of their pioneering game show style titles. Based around the Money Wheel concept, Crazy Time is responsible for the biggest live casino win ever, awarding a single round win of $12.5 million on 4th of October 2020.


Do all the Players play the same game in Gonzo's Treasure Hunt Live?
Each player decides how to proceed with their unique treasure hunt, which stones to bet on, and how many chances they need to find them. There are so many combinations that it's almost impossible two player choose the same multiplier and stones on the wall in the same round.
SHARE IT WITH YOUR FRIENDS
Let your friends know about this article! Share it on your favourite social media!