Crazy Coin Flip Live - How To Play, Cheats, Strategies & Bonuses
After the successes of Evolution Gaming with the Crazy Time and Monopoly Live games, they have created their very first Live Slot and they named it Crazy Coin Flip. Read here how to play the game, how to profit from every coin flip bonus round, how to use the XXXtreme spin modes, the best casinos where to play Crazy Coin Flip, winning strategies, tips & tricks! Entertainment guaranteed!

Top 3 Casino Where To Play Crazy Coin Flip
What is Crazy Coin Flip?
Crazy Coin Flip Live is a live dealer-presented game show by industry-leading live casino games developer, Evolution Gaming.
Actually, Crazy Coin Flip Live is a slot-based live game, and it plays out in 3 phases. The Qualification Phase is a regular 5x3 slot, and you get to the multiplier-accumulation Top-Up Phase by landing 3 scatters. The grand finale is the live Coin Flip bonus round, which determines your winnings up to 2,000x your stake.
How does Crazy Coin Flip work?
Crazy Coin Flip is a three game phases Live Casino game. The objective of the game is to qualify for the live bonus game by collecting three scatter symbols during the qualification phase.
The show begins with a 5×3 slot, featuring 10 fixed pay lines and awarding wins for matching three to five symbols on a line. Hit three scatters to progress to the next round and spin a 3×3 slot to add potential multipliers before finishing with a coin flip bonus to determine your prize.


The Qualification Phase – Play a five-reel slot to qualify for the coin flip.
The first phase of the game on the qualifying slot contains seven pay symbols of 10, J, Q, K A, Cherries and Bells, which pay from 0.2x to 5x your stake for five of a kind. The game logo acts as the scatter symbol that can appear with multipliers attached up to x10 on reels 2, 3 and 4. Land three on a spin to win entry to the next game phase.
You can win regular slot payouts between 0.2 and 20 x your stake from the 7 unique pay symbols.
The slot has three spin options depending on how quickly you want to qualify for the Crazy Coin Flip.
Regular Spins (96.05 % RTP) - it is the standard/default game mode with nothing extra. There is no help in getting the scatters.

XXXtreme Spins (96.00 % RTP) - it costs 5x your regular stake, but guarantees at least 1 scatter symbol per spin.

Super XXXtreme Spins (96.05 % RTP) - it costs 50x your regular stake, but guarantees at least 2 scatters on each spin and generates even more frequent multipliers.
Payouts
| Symbol | 3x Payout | 4x Payout | 5x Payout |
| --- | --- | --- | --- |
| Bell | 5x | 10x | 20x |
| Cherry | 2x | 6x | 12x |
| Ace | 0.6x | 1.5x | 3.5x |
| King | 0.5x | 1.3x | 3x |
| Queen | 0.4x | 1x | 2.5x |
| Jack | 0.3x | 0.7x | 2x |
| 10 | 0.2x | 0.5x | 1.5x |
The Multiplier Top-up Phase - boost your multipliers
As soon as you qualify by getting three scatter symbols in the first phase, the Top Up bonus round begins. You'll be playing a classic 3×3 slot with a single win line across the middle called the Top-Up Slot. Basically, it's a race against the clock to secure as big of a multiplier as possible. You may get more or less time depending on when you qualify.
In this slot, all the symbols are replaced with red and blue coins with multiplier values. You may spin as many times as you wish within the time allowed.
The multiplier coins come in red and blue colors, and you win by landing 3 of the same colour on the middle row. Note that the multiplier sums are separate for blue and red coins.
The won multipliers are again summed together and brought over to the the final round when the time expires.
Please also note that each spin requires a bet made and increasing the bet amount increases the value of the multipliers you can win.
Of course, you can also choose not to Top Up by letting the clock run down. In this case, your red and blue multipliers will be the ones you got in the initial phase.
If you qualified just before the final round round began, you could also choose to stay in the Top-Up phase. That allows you to keep playing this stage and increase the total Top-Up multiplier for the next Coin Flip bonus round.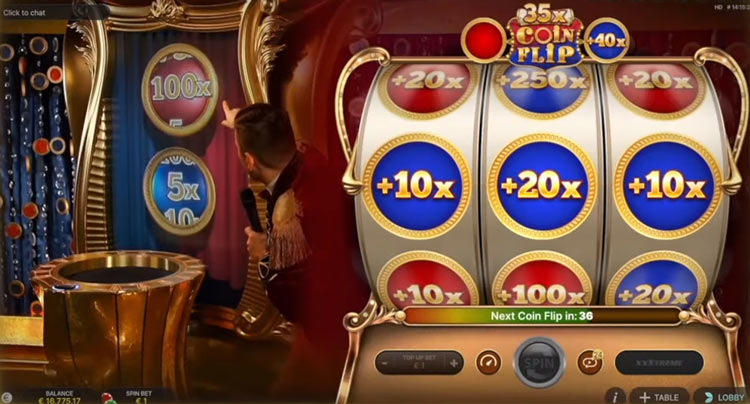 The Live Coin Flip Bonus Round - Where Big Wins Are Made
The Coin Flip Bonus round is the third and final stage of the game. In this live bonus game, you play it with a live casino dealer and a coin-flipping machine.
First of all, the live game host generates a multiplier between 5x and 100x for both the blue and the red side. This is completely random and affect all qualified players equally.
This special multiplier will be applied to both the red and blue coin flip multipliers that you collected during the Top-Up phase.
Finally, the live host presenter pulls a lever to flip the coin. The machine flips the coin and determines the winning colour in the Coin Flip phase.
Whichever side the coin lands on is the winning side. You receive the multiplier win on the winning coin side. This means that initial bet value you made during the qualification process is multiplied by the multipliers, giving the amount you win.


How to play Crazy Coin Flip Slot
Sign up with one of the online casinos we recommend on this page (the top three we mentioned at the top of this guide and the ones you will find in the next section).
Fund your account and go to Live Casino
Locate 'Crazy Coin Flip' and launch the game
Choose your bet level and press spin to begin
Match up 3 or more symbols along the paylines to win
Discover 3 or more Scatters to activate the Top Up bonus game. Activate XXXtreme or Super XXXtreme modes to instantly add 1 or 2 Scatters to the reels and increase your chance of activating the Coin Flip mode
Spin on the Top Up reels to add multipliers to the Red and Blue side during the coin flip
When the Top Up time expires you enter the live Coin Flip bonus round, that takes place in a live studio. Here the live game host reveals a bonus multiplier and then flips the coin to determine the winning color and your final multiplier value.
You get a payout according to the accumulated multiplier for the winning color and the base bet from the Qualification stage.
So, there is a three-fold multiplication that can skyrocket your winnings.
Which casinos have Crazy Coin Flip Live?
Almost all the best online casino sites and the top slot sites are expected to add Crazy Coin Flip live to their portfolio.
Crazy Coin Flip strategies
Crazy Coin Flip Live, as well as all the other casino games and game shows, is entirely a game of chance. Pure luck will decide your fate.
Anyway, every player can implement a different strategy according to hist style of play. It will not guarantee a win but it will surely enhanced the possibilities to achieve a winning payout and increase the fun.
Follow the plan
Make a plan and follow it. Make all strategic decision before your playing session.
How much will you invest on each game round?
Will you use the XXXtreme and Super Extreme spins to faster qualify for the Coin Flip bonus round?
Will you spin the slot during the Top Up round in order to increase the multiplier value? Will the initial qualification multiply influence your choice?
How big are the Top Up multipliers and the final multipliers you are targeting?
Whatever you decide, make sure to not deviate an inch from the plan and to play responsibly.
Conservative Strategy
You can decide to play with a conservative strategy, making small bets during the qualification process and placing bigger bets in a later stage to boost the multipliers.
This way you can go for big winnings only when you have the odds on your side (eg. the qualification slot game gives a fair good multiplier).
For example, you may decide to bet during the Top Up phase only if you arrives with a multiplier bigger than 20x.
A More Aggressive Strategy
If you have a decent bankroll, you can decide to play in a more aggressive way.
You can activate one of the two XXXtreme spin modes. They can be cost-effective as they increase the frequency and value of the multipliers on the scatter symbols.
Take note of how big the final multiplier should be in order to break even and be sure you don't invest more that 1% of your bankroll per each spin.
Frequently Asked Questions
How are the final payout amounts calculated?
Total winnings are calculated by taking into account the initial multiplier values, the top-up values, and any scatter multipliers to give a final total for each side of the coin.
For example, an initial 1 credit stake with an x10 Top-Up multiplier plus an x20 coin flip will pay 200x your bet.


Are Crazy Time Live and Crazy Coin Flip the same game?
Crazy Time is one of the most popular games in Evolution's portfolio. Although similar in name, Crazy Coin Flip is very different from Evolution's smash hit Crazy Time Live even if the Coin Flip feature in Crazy Time ties them together in a certain sense.
How long a Coin Flip round takes?
Not too much. There is a new round every other minute or so. You will never have to wait very long for a bonus round to start.
Is Crazy Coin Flip Live a slot or a live dealer game?
Crazy Coin Flip is a hybrid casino game. It is basically the perfect marriage between a classic slot game and a Live game show experience.
Can I play Crazy Coin Flip Live on mobile?
Crazy Coin Flip is fully compatible on all mobile devices. Just make sure your smartphone or tablet is an Android or iOS device.
What is the RTP of Crazy Coin Flip slot?
The Crazy Coin Flip RTP is 96.05% or 96%, depending on which of the 3 game modes you go with (normal spin mode, XXXtreme spin mode and Super XXXtreme spin mode). Moreover, the Top-Up phase slot has a 95.06% return to player.
Are XXXtreme Mode Spins worth playing?
These two features are quite expensive but they dramatically increase your chance to qualify for the bonus round. If you use the XXXtreme Mode Spins, you need to qualify in less than five spins on average, as it costs you five times the initial bet amount.
How many multipliers can I add during the Top Up phase?
During the Top Up slot phase, you can add as many multipliers as you can before the time expires. As long as you match 3 of the same coloured multiplier, they will be added to the total of the blue and red side, and activated when that side wins during the Coin Flip bonus round.
If the Coin Flip Bonus is about to be played when you qualify for round two, you will be given a choice of joining the current coin flip or waiting for the next.
What is the language of Crazy Coin Flip?
Just like any other Evolution gaming game show, this game is presented strictly in English and we likely won't see native-speaking options any time soon. However, you can change the language of the UI text in the settings menu and choose among over 20 available languages.
What live casino games can I play similar to Crazy Coin Flip Live?
Monopoly Live by Evolution Gaming was the first game show that featured a qualifying round and a live bonus game round. Crazy Time (from the same game developers) features a Coin Flip Bonus as one of four possible bonus games.


SHARE IT WITH YOUR FRIENDS
Let your friends know about this article! Share it on your favourite social media!