Cash in my bet, a new betting feature at William Hill
Cash in my Bet gives the customer the ability to take any profit, or reduce your liability, of bets before they are fully settled. It will be available on most football markets before they go in-play. When your cash in value shows as gold, you can cash in for a profit.
CASH IN MY BET AT WILLIAM HILL

'Cash In My Bet' gives William Hill customers a cash out value of their bet, as soon as it's placed – available across a whole host of William Hill's 180 pre-match, and 100 in-play markets, and available for single and accumulator betting.

Cash In My Bet is currently only available on Football betting, with Tennis expected early in the New Year and other sports expected to be added throughout 2013.

And here is an example of how it works:

£5 is placed on a treble of West Ham (3/1), Everton (7/4) and Tottenham (6/5). The first 2 games are played at 3pm and both teams go on to win, while Tottenham is due to kick off at 5.30pm. At this point the bet can be cashed in for £50, making a profit of £45 regardless of what happens in the Tottenham game.
Cashing in your bet could not be easier:
Firstly place your football bet. This can be a single or a multi. As soon as you place your football bet you'll have a 'cash in' value attached to it.
Then whenever you think about cashing in go to the 'Open Bets' tab on the betslip and details of your bet(s) will appear.
As each leg of your accumulator wins, or even if your team goes ahead in the game, your cash in value will increase.
The more legs of the accumulator and the later in the game you leave it the higher the value.
If the 'Cash In' facility is active on the market/game you bet on then you will see a green icon that says 'Cash In' and a cash value next to it that shows your returns if you get out early.
Whenever you do choose to click the button you will be guaranteed the same returns no matter the ultimate outcome of the bet, plus the money will be delivered to your account immediately.
Open a new account with William Hill

How do I use Cash in My Bet at William Hill?All open sportsbook bets will be shown on the new open bets tab, with the amount of bets shown in brackets: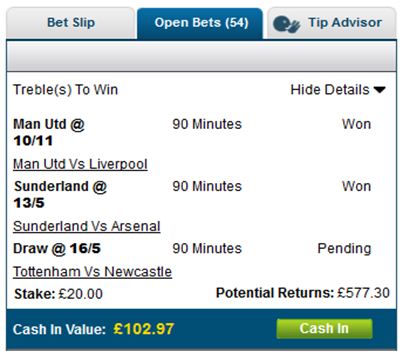 When cash in is available, the button is displayed next to the amount.

Multiples will be shown in a collapsed view, but clicking 'Show Details' will give details of the bet: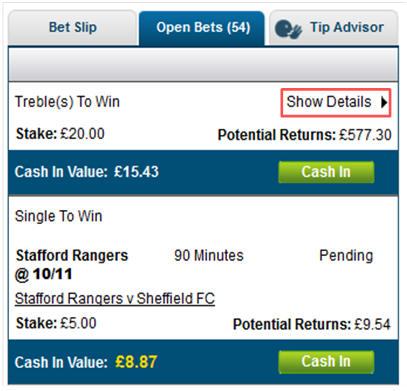 Cashing out a bet is a simple matter of clicking on the button: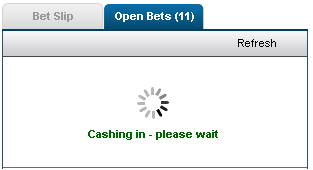 The bet receipt will be shown for a short period before leaving your betslip: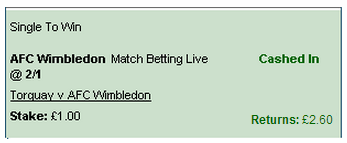 TIP: When the cash in value is green you will be cashing in for more than your stake and making a profit.
Why can't I Cash In My Bet?Cash in is not available on all markets. There may also be times when you have placed a bet on a market, cash in is available however you are not able to cash in your bet. The reason for this will be one of the following:
The market is suspended or no longer available
The amount you would be cashing in for is zero
You have used a free bet; free bets cannot be cashed in
Your bet will qualify for a free bet. In the event that this is the case, you will not be able to cash in your bet.
SHARE IT WITH YOUR FRIENDS
Let your friends know about this article! Share it on your favourite social media!