To Come From Behind and Win or Draw: Tips & Betting Guide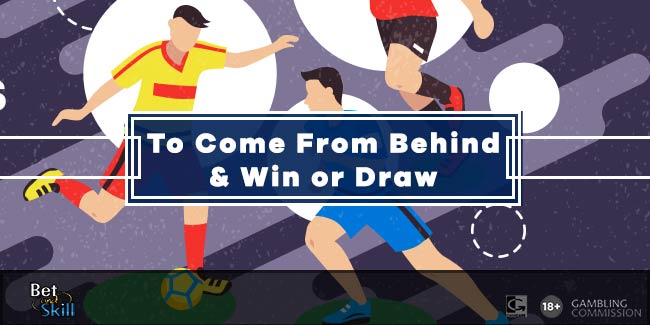 A To Come From Behind and Win or Draw bet is one of the most interesting opportunity for punters to make a profit with relatively low risks. Find here our betting guide, tips and strategies about the 'To Come From Behind and Win or Draw' betting market.
Top Betting Sites To Bet On "To Come From Behind" markets
It can be frustrating watching your side go behind. You find yourself on the edge of your seat, desperate for your club to at least get something. When that something happens though, elation.
There's no feeling in football like it, especially if you put a few quid on it. The To Come From Behind and Win or Draw market is one of the most exciting out there and also one of the trickiest to get right, just like another very similar bet - To Come From Behind and Win.
The rewards are there though and you can make some decent profits if it comes off. It's a wager that is certainly worth a few free bets and can really boost the odds of a traditional match result wager.
What is a To Come From Behind and Win or Draw bet?
A To Come From Behind and Win or Draw bet is ultimately a bet that involves the side you back being behind at some point during the match and going on to earn at least a draw from the game.
The side can go behind at any point, it doesn't have to be the first goal, and as long as they earn at least a point come the final whistle, your wager will come through.
This wager is a particularly good one to take when bigger sides take on teams who could cause a few problems. For example, in the past Stoke has always been a tough side to go to, with the Britannia being a place where they could take an early lead only for bigger sides to get back into the game.
Equally, cup fixtures, where minnows fight hard to get an early goal only to be pegged back by the higher quality are also good fixtures to place this bet.
They aren't easy to win, but knowing teams' traits can help you pick this wager and make a nice few quid.
Where Can I Play A To Come From Behind and Win Bet?
Most of our online bookmakers will take this bet, with the wager being a popular request among punters. 10Bet will often push this as one of its specials, as will Paddy Power so they're well worth keeping an eye on.
In some cases you'll see it on the standard markets within a fixture, in others you may have to request it. It's incredibly easy to request a bet from online bookies these days, just head over to their social media channels and there will be plenty of instruction on how to do so.
You'll generally find this market across the following though:
Just head over to our bookmaker page and you can find out all you need to know about our bookmakers before choosing the right on for you and playing a To Come From Behind and Win or Draw wager.
What Sports Can I Play This Market On?
You can play this wager on a number of sports, although the odds will differ depending on which. For example, high scoring games such as basketball will contain much lower odds compared to football, where it's not uncommon to see 0-0 fixtures play out.
Essentially, any fixture where a team or person could go behind and then win or draw will be available to bet on with this market though, including:
When To Play A To Come From Behind and Win or Draw Bet
Knowing when to place a To Come From Behind and Win or Draw bet is key to success on this one. Certain scenarios lend themselves better to the market. A mid-season game between a giant and a side sitting in the lower half of the table is perhaps one to avoid, while knockout competitions can be perfect.
Minnows dream of a giant killing in cup competitions, take the lead only for them to run out of steam and the larger team take control. These are usually the best opportunities to make the most of a To Come From Behind and Win or Draw bet.
Newport's fixture with Tottenham during the 2017/18 FA Cup is a good example of this, while you see it regularly happen in the First Round of the tournament.
There are other scenarios where it may be useful to consider this wager though...
The Importance of a Game
What's at stake can be a major influence on this market. If a side needs a point on the last day of the season, we can perhaps expect late goals. It happens time and time again and there are plenty of examples in the dying moments of the 2017/18 season in the Football League.
Sergio Aguero's late winner back when Manchester City beat QPR is another example. It happens more than you'd think.
Late Scorers
There are a number of teams around that are traditionally late scorers. The master was Fergie, who even had the term Fergie Time coined for these occasions. Manchester UTD also proved it time and again in 2020/21.
Some sides have a habit of picking up late goals, coming from behind. Knowing who these are will certainly help you win big from this wager.
How Teams Start
Equally, knowing if a side is a fast or slow starter is also useful. If teams generally fly out of the blocks before settling down, you may not want to bet on them coming from behind. Betting on their opposition though may be worth a look.
Important Information About To Come From Behind and Win Betting
While this bet is relatively straight forward, there are a number of things to understand with it, especially when it comes to playing it during FA Cup games or knockout competitions where there has to be a winner.
The bet will only take into account the regulation 90 minutes, so if you were betting on the second leg of a Champions League fixture for example, it would only take into account the second leg match.
This would mean if you were to select a team who was 1-0 down from the first leg and your team won 2-0 in the second, it wouldn't mean the side you backed has come from behind.
Equally, if the game went to extra time and a side went behind and came back to win, it wouldn't count as it's outside the regulation 90 minutes.
Things to remember:
The wager applies to 90 minutes only. Injury time does count, but extra time does not
Penalty shootouts also do not apply
First leg scores do not count towards To Come From Behind and Win or draw bet in a second leg fixture
SHARE IT WITH YOUR FRIENDS
Let your friends know about this article! Share it on your favourite social media!