BetConnect Free Bet: Up To £50 Matched Bet For New Punters
Written by Martina Maritato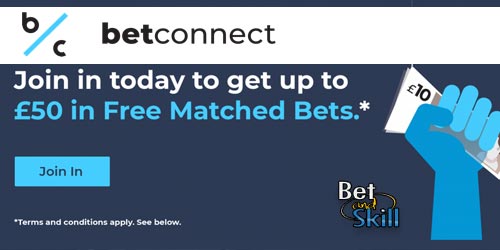 BetConnect
is the most innovative, exciting sports betting product we have come across in recent years. It is a social betting network that shows you professional gamblers' bets. Betconnect is now offering a new welcome offer. Join today to receive
up to £50 in free matched bets
!
Founded in just 2018,
Betconnect
is relatively new in the betting scene. It is a next generation betting exchange where Pro gamblers post their bets for Punters to take up and follow or take on and lay. When you sign up to
BetConnect
you have two options for what type of account you want to create:
Punter
— to follow bet requests created by 'Pro' accounts.
Pro
— to request bets for 'Punter' accounts to match.
The welcome free bet offer is only available to NEW PUNTER accounts. The welcome offer is NOT available to Pro Accounts.
BETCONNECT FREE BET OFFER
Here's how to get your Betconnect Free Bet:
1)
Open a new Account on BetConnect via this special link
;
2) Register as a Punter and make your first deposit of at least £10 into your new punter account;
3) Your account will be credited with the Free Bets;
4) Receive Bet requests from Betconnect Pros. Any losses you incur from the first 3 Bet Requests will be covered by the Free Matched Bet to a maximum of £50 in total.
5) Evaluate Pro data and latest odds;
6) Decide whether to follow their bet or lay it.
Betconnect Free Bet FAQ
- Are there wagering requirements on Free Matched Bets?

There are no wagering requirements on Free Matched Bets. Any winnings will be paid into your cash balance minus the initial Free Matched Bet amount.


- How does the Free Matched Bet work?

The Free Matched Bet will be credited as soon as you opt-in to receive the bonus and make a deposit into your betconnect account of at least £10, into a new punter account. To activate the Free Matched Bets you must match up to 3 Bet Requests, up to a total combined liability of £50.
Full T&C at betconnect.com
MORE ABOUT BETCONNECT
Betconnect
is registered in Weybridge, Surrey. Mark Weaver and Dan Schreiber are the co-founders. This site represents a new, social model of betting. It has the potential to facilitate just about every profitable approach to betting that we have analyzed on our portal including
Matched Betting
, Arbitrage,
Betting Exchange
, Value Betting — even following proven Tipsters.
Social betting platforms
are relatively new in the betting world. However, there is a high demand from amateur punters looking to follows tips and advice from more experienced and professional gamblers.
Pro' accounts request bets along with the stake they want, and BetConnect distributes it out to logged-in 'Punter' accounts to match, and/or copy for themselves. BetConnect gives punters two clear opportunities to profit via their network of Pro gamblers.
In simple terms, either Follow the Pro or Lay the Pro.
Hence, punters can accept the pros bets and act as the bookie. If the pros bet wins, the punter covers the liability and if it loses, the punter receives the value of the pros stake just like a bookie would.
Who are BetConnect Pros
BetConnect Pros are real professional gamblers who are restricted or closed by the bookies due to their success. Why else would they pay us a commission to get their bets placed?
How to Lay on BetConnect
A
punter
receives a bet request and decides to lay the Pro, ie bet against them – to do this he has to have the cash on account to cover the Pros winnings (the liability).
If the bet loses the Punter is credited with the stake from the Pro.
If the bet wins, then the Punter must pay the liability to the Pro.
Join today to enjoy all the goodies that come with Betconnect or
click here to see all the available no deposit bonuses!
SHARE IT WITH YOUR FRIENDS
Let your friends know about this article! Share it on your favourite social media!