Tweet

Written by David Bet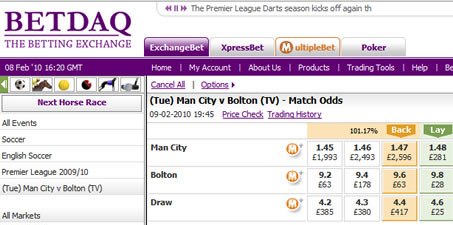 BETDAQ is one of the world's leading betting exchanges. A lot of people are very new to the concept of betting exchange but this article contains demos and tips to learn how to bet markets on Betdaq. These videso are aimed at people who want to understand all the basics and advanced concepts of betting exchanges.


The basic premise of their service is simple. They provide sports bettors with a service that offers better value, greater choice and more flexibility in how to bet.


You can use the exchange in many ways.

At its simplest you can back any selection to win an event, exactly as you would with a traditional bookmaker.

You may also choose to bet on a selection not winning an event, effectively to step into the shoes of the traditional bookmaker.

You can make an offer to bet at bigger odds than are displayed, giving you control over the odds you are willing to accept as being good value for each bet.

You can manage your bets so that you can trade into a profit before an event has even started.

You can experience the real thrill of betting with fellow users while an event is taking place.We recommend you view these demos with sound and your browser open fully. Press F11 if you want to maximise your browser at any time while watching a demo.
Betting
New to placing a bet on an exchange – View these demos to see how it's done!
(a) Placing a Back Bet
(b) Placing an Order and dealing with an unmatched portion of a bet
(c) Placing a Lay Bet
(d) Placing a Multiple bet
Features
Want to see some of the features BETDAQ has to offer? View the demos below to find out more!
(a) Website Navigation
(b) My Preferences
(c) Add a Place Bet from the Win Market in Horse Racing
(d) Expiry Time
(e) Pro Forma Profit and Loss
(f) The Live Bets Panel
(g) Suspend and Unsuspend Orders


Betdaq Bonus:
€/£200 Free Bet

• To avail of the €/£200 free bet promotion customers must enter code ALLBDQ03 at registration.
• On paying €/£25 in commission a qualifying customer will be given a €/£25 free bet.
• For each additional €/£100 in commission paid, the customer will be given an additional free bet of €/£25 until a cumulative total of €/£200 in free bets has been awarded.
• Accounts which have met qualifying conditions will have free bets credited within 72 hours.
• Free Bets balances cannot be withdrawn until they have been bet with at odds of 1.5 or greater.
• Members cannot match free bets with themselves.
3% Commission
• Promotion applies to new registrants from January 1st 2012 until the offer is withdrawn by BETDAQ.
• Qualifying customers will have a 3% commission rate applied to any bets placed between January 1st 2012 and December 31st 2012.
• Commission offer applies to BETDAQ exchange betting only and does not apply to BETDAQmultiples. • Net market winnings from bets placed at different commission rates will have a weighted average commission rate applied.